KFC Oh-No-You-Didn't Cups
Let's say you are in a hurry and are looking for a snack that would fit in your cup holder.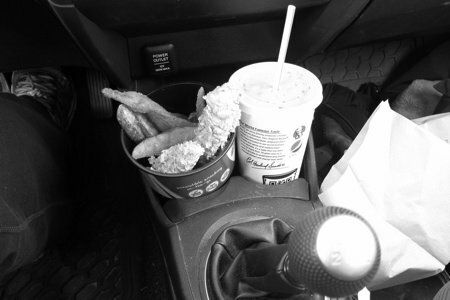 How about a banana? Or an apple? Or maybe you might be interested in the NEW KFC Go Cup?
For a mere $2.49 you can purchase a cup filled with fries and chicken. See here: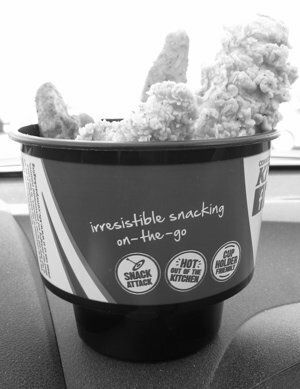 The top photo is of the KFC Go Cup in my car. I was curious how it would work – me – driving with greasy food in my car – trying to eat it.
What do you think happened? After stopping for a red light, I managed to drop my chicken tender on the floor of my car – which we all know is a very sanitary place.
I'm kinda glad I did because the KFC Go Cup nutrition facts are SCARY:
540 calories, 28 g fat, 4.0 g saturated fat, 46.0 g carbohydrates, 0 g sugar, 26 g protein, 4.0 g fiber, 1440 mg sodium, 14 Points+
This is almost an entire day's worth of sodium for an over 50 year old and 28 grams of fat! The Go Cup is out of control.
The steering wheel gets covered in grease and you can't have ketchup with your fries when you attempt to eat from it.
Can I tell you how it tastes? No, because I couldn't taste anything because I was so focused on driving my car. As you can see, I drive a standard so it was challenging to eat and not run over some poor old lady.
This is by far the worst way to enjoy food. My Honda Fit has 8 cup holders all around the car (which is insane). I am going to use them for water bottles.
Any of you try the new KFC Go Cup? Are you amazed at the nutrition facts?
Points+ values are calculated by Snack Girl and are provided for information only.