Kid's Menus: Is This The Best We Can Do?
Last week, I went to a local restaurant that has fresh, lovely food. My children were handed a kid's menu before I could stop the inevitable.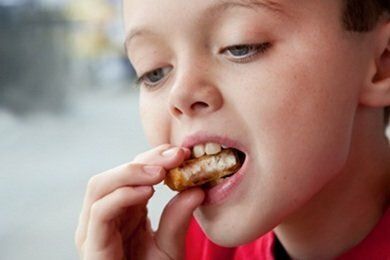 My menu at Judie's in Amherst, MA had a combination of soups, salads, and sandwiches with many fruits and vegetables. I can get a pretty healthy meal here as long as I avoid their yummy popovers.
But, what about my kids? I don't remember the EXACT menu, but any parent can tell you what was on it:
hamburger
chicken fingers
pizza
macaroni and cheese (or pasta with sauce)

and soda, milk, or juice. You almost can always add a sundae for $1 more.
My children ordered a hamburger and chicken fingers, while I had a fresh salad. There were ZERO fruits or vegetables on their plates - not even a slice of lettuce for the burger.
Ummmm, is this McDonald's? - hey at least at McD's they give you a pickle. I shoulda just taken them there, right? So, I asked the waitress for some fruit for my kids and she brought over some grapes - which they devoured.
I am naming "Judie's" because I am going to send them this article as a complaint. But (to be fair), they are not the only locally owned restaurant to create a compelling adult menu and a "fast food" kid's menu.
Do you think that is all our children will eat? Of course, I could just tell my kids that we are not ordering from the kid's menu and make them choose from the adult menu.
And, if Judie's didn't make the kid's menu into this cute drawing project - it would be much easier for me to do that.
My kids assume that they will get to order from the above four food groups when we eat out because EVERY TIME we go to a restaurant - this "food" is what they are offered.
What to do? Well, I think fast food has its place - just not at a restaurant meal. Eat fast food at fast food places and eat restaurant food at restaurants!
Let your local place know that you don't like the kid's menu.
Before you leave the house, tell your children that they are going to choose something from the adult menu. Ask the restaurant if they will make a child's portion.
Always serve fruit and veggies on their plates at home.
Even when my son will not touch carrots, I put them on his plate. I always put the vegetables on their plates and SURPRISE! sometimes they eat them. My daughter is a much more adventurous eater and will try everything I put in front of her.
We are just limiting our children's palates when we offer them the same bland, meaty, cheesy, fried food. Frankly, I feel bad when I am eating something healthy and my kids are scarfing down high fat, high sodium, and very sweet food.
Don't get me started on the public school lunches (nachos, pizza, chicken nuggets, hamburgers....).
Please share your thoughts and strategies on kid's menus.
---
Want to read about snacks?
Got Fruit On The Edge? Don't Toss It - Try This
Top Ten Budget Healthy Snacks 2011
One More Thing To Do With Watermelon
Is Stevia/Truvia/PureVia A Safe Sweetener?