Lean Cuisine Reviews
Lean Cuisine reviews are harder to come by than you think. Who wants to sit around tasting "diet" food?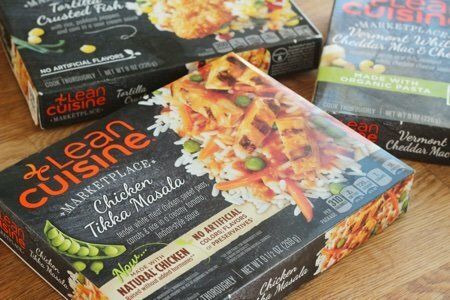 It may be "diet" food but I see it in every shopping cart in the store. The latest packaging with its black chalkboard is quite compelling. You might not even notice the word "lean" with all the other words like "organic" and "natural" on the box.
I bought three of them to check out because I am always hopeful that these meals are healthy and tasty. I have reviewed Smart Ones and Amy's Frozen Meals in an attempt to find the perfect frozen option.
I think frozen meals could be a great source for healthy eaters on the go who don't have time to cook. Certainly, I make delicious food, pack it in my freezer, and reheat when ready and it works! You think a big company like Nestle could do the same thing?
The first thing I look at is the ingredient list. This is a photo of the Lean Cuisine Chicken Tikka Marsala box:

I like this list. I don't see anything objectionable and there are no artificial flavors or colors.
This list on the other hand from the Lean Cuisine Tortilla Crusted Fish (fish?) is very difficult to read:

I am getting old but SHEESH. I can't begin to discern what is in this box. It cracks me up that Nestle chose to call this "fish". Have they not figured out that people like to know which kind of fish they are eating? Here it is listed as Alaska Pollock – which is not sustainable. Argh!
Back to my review, which I will begin with Lean Cuisine Chicken Tikka Marsala.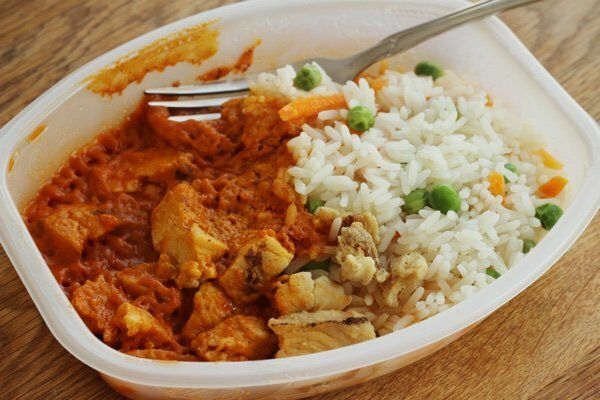 This is quite tasty! I was surprised that I liked it. The flavors are strong and the meal really was a form of Indian food.
310 calories, 4 g fat, 2 g saturated fat, 51 g carbohydrates, 7 g sugar, 18 g protein, 2 g fiber, 720 mg sodium, 8 Freestyle Smart Pts
Obviously, there is too much sodium (as is true with all the options). Also, I am wondering about that 7 grams of sugar. How much of that is added sugar or is it due to the carrots and peas? This is the kind of question that will be answered soon with the FDA's new "added sugar" labeling. I am looking forward to it.
I wish for brown rice and MORE VEGGIES.
This is the Lean Cuisine Tortilla Crusted Fish: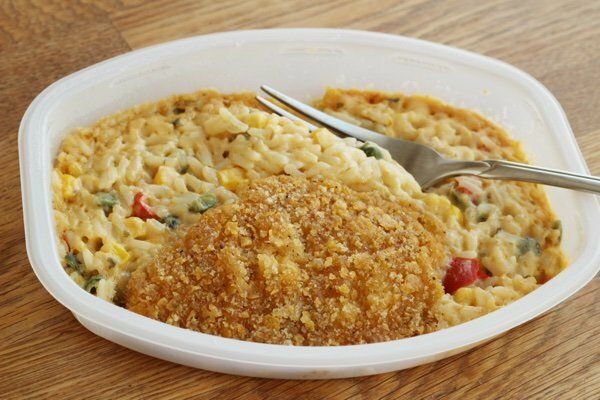 I want to like this because it had a nice pepper kick but the fish turned out gummy in my microwave.
300 calories, 9 g fat, 2 g saturated fat, 41 g carbohydrates, 6 g sugar, 14 g protein, 2 g fiber, 490 mg sodium, 8 Freestyle SmartPts
I also had the same problems as the Chicken Tikka Masala (too much sodium and added sugar) and would like to see brown rice and MORE VEGGIES.
Finally, just for fun, I added this Lean Cuisine Vermont White Cheddar Macaroni and Cheese: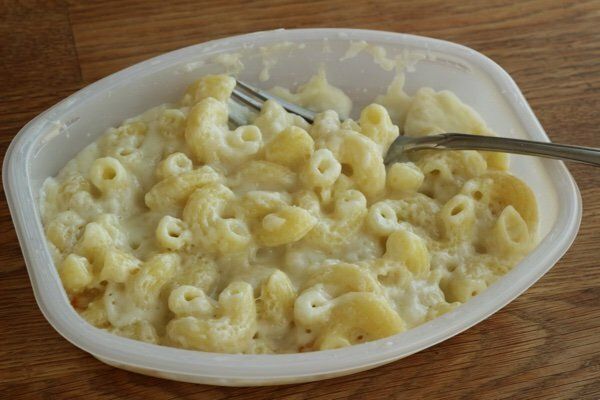 The box advises you to pair this with a salad to create a complete meal and I couldn't agree more.
250 calories, 6 g fat, 4 g saturated fat, 35 g carbohydrates, 5 g sugar, 14 g protein, 0 g fiber, 690 mg sodium, 8 Freestyle SmartPts
The saturated fat is very low for a dish like this. I found this a bit bland but the consistency of the pasta was pretty good and the cheese tasted like cheese. You could do far worse.
The good thing about this macaroni and cheese is that it is a perfect portion size to stop yourself from going overboard.
My conclusion is that if you have a choice between Lean Cuisine and McDonald's (they cost about the same) go ahead with the Lean Cuisine. Obviously, if you have the time, make your own food and freeze it.
Have you tried Lean Cuisines? Which are your favorites?
---
Other posts you might like:
---

Smart Ones meals are the supposed smarter option in the frozen meals section. The smartness is because they are a lower calorie (and perhaps healthier) option....
---

It has been a long time since I last took a look at Amy's frozen meals.....
---