How Unhealthy Is Lean Cuisine?
Lean Cuisine is a brand of frozen meals created by the Nestle corporation. How bad are they for you?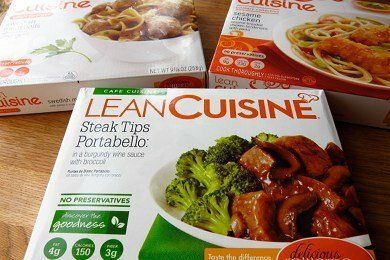 Snack Girl has a new office and I share a lunch room with other tenants in the building. I have noticed a stack of "Lean Cuisine" boxes in the trash can. What am I doing looking the trash can? Good question.
Anyway, I saw these and thought I should give them a try. At my local supermarket they were 5 for $10!! Wow! So, I bought three to sample the array of meals (see photo above).
It just blows my mind that you can buy a prepared, boxed, and frozen meal for $2. My kid's school lunch cost $2.50. How does Nestle do it?
I got ready to really hate these and skewer them with my wit, and I found myself approving of one of the meals. See the Steak Tips and Portabello above? This is the photo of what it looks like before you eat it: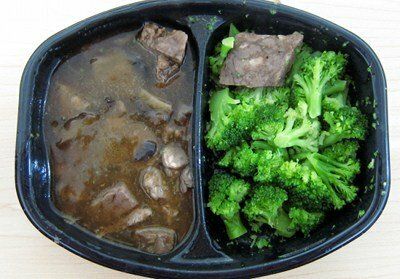 I noticed something right away that I liked about this meal. One half of the plate is vegetables - and there are lots of mushrooms in the "protein portion" of the plate. There are a bunch of veggies here! Here is the U.S. government's MyPlate diagram: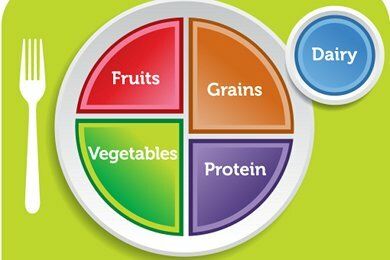 Do you see the similarity?
What I like about this diagram is getting you to fill half your plate with fruits and/or vegetables for your meal. And Lean Cuisine in their "Steak Tips Portabello" has done just that. Here are the nutritional facts for this meal:
150 calories, 4 g fat, 14 g carbohydrates, 15 g protein, 3 g fiber, 430 mg sodium, 4 Points+
Umm, that is not a lot for a meal. This meal breaks almost every one of Michael Pollan's food rules - too many ingredients, in a box, not local, etc. etc. But, for people who are broke, exhausted, and trying to lose weight - it is not a bad option. The sodium, of course, is out of control at 18% of your daily value.
It tasted salty to me, but it tasted much better than I thought it was going to taste for $2. It was better than edible.
Now, all of the other Lean Cuisines were meals such as meatballs and pasta, macaroni and cheese, and chicken and pasta. And, they lacked VEGETABLES. I think I would avoid those. They seem unhealthy because they all have high amount of sodium and low nutritional value.
My advice is to pick the frozen meals with the most vegetables and the lowest sodium. Eat them when you don't have time to cook.
Do you have a favorite frozen entree? Please share your thoughts on the healthiness of frozen meals.
---
Other posts you might like:
---

The questions keep rolling in about the frozen foods aisle and I am ready to go!
---

The McDonald's Egg McMuffin is on Snack Girl's radar. After reviewing, McDonald's Oatmeal she got a bunch of questions on the iconic McMuffin....
---