Lemon Blueberry Yogurt Cake
Making delicious baked goods without a ton of calories is difficult.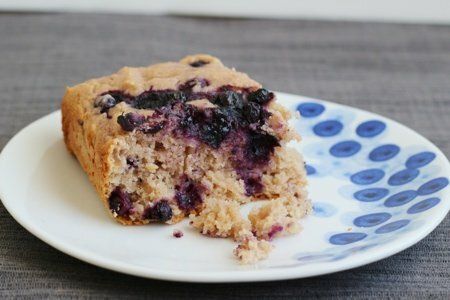 Sure, you can leave out butter, sugar, and eggs but then it isn't delicious.
This cake takes the approach of replacing the butter with other flavors – lemon and blueberry. The idea here is that lemon and blueberry are SO tasty that you won't miss the butter.
Also, I used white whole wheat flour instead of all purpose flour to add more nutrients. This made the cake a bit less fluffy and its texture reminded more of a muffin. I would not serve this at a 3 year old's birthday party.
This is a very low fat cake and it may help you avoid the evil "25 grams of saturated fat blueberry muffin" that lurks at your favorite Starbucks or café.
If you eat those super fatty muffins (and I had a habit of eating them myself), remember this might take some getting used to – but it is worth it in the end!
How do you make lower calorie baked goods?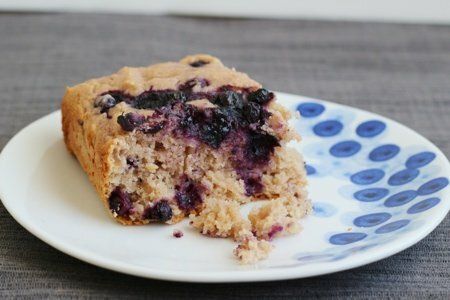 Lemon Blueberry Yogurt Cake Recipe

Makes 16 slices (2 inch x 2 inch size)

Ingredients
1 cup milk – (whole, skim, almond, soy, etc.)
¼ cup lemon juice
½ cup plain yogurt (Greek, lowfat, nonfat, soy, etc.)
1 egg
2 teaspoons lemon zest, minced
1 teaspoon vanilla
2 cups white whole wheat flour (such as King Arthur's brand)
2/3 cup sugar
3 teaspoons baking powder
¼ teaspoon salt
1 cup frozen blueberries
1/3 cup frozen blueberries (for top)

Instructions
Preheat oven to 350 F. Line a 8x8 inch square pan with parchment paper and spray with non-stick spray.
Combine milk, lemon juice, yogurt, egg, lemon zest, and vanilla in a large bowl. Add flour, sugar, baking powder, salt, and blueberries and mix until blended. Spread batter in pan and top with 1/3 cup blueberries.
Bake for 45-50 minutes until a toothpick or butter knife inserted into the center of the cake comes out clean. Top with powdered sugar or eat plain.
Nutrition Facts
For one slice = 108 calories, 1.0 g fat, 0.0 g saturated fat, 22.5 g carbohydrates, 11.4 g sugar, 3.4 g protein, 1.9 g fiber, 53 mg sodium, 3 Points+
Points values are calculated by Snack Girl and are provided for information only. See all Snack Girl Recipes
Other posts you might like:
---

I know what you are thinking. How can a muffin save a life? Don't we usually use things like electrified paddles?....
---

Snack Girl is already making her plans for Earth Day (April 22nd). I am going to celebrate with a picnic!...
---
---
Get Free Email Updates! Yes please!
---