Veggie Burgers Can Be Better Than Meat Burgers (Seriously)
Snack Girl has been looking for a packaged veggie burger to endorse as a great snack. And, she hasn't found one :(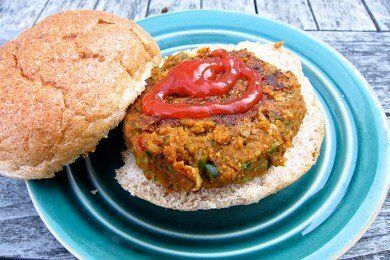 The ones I have tried have been either tasteless, too full of sodium or cheese, or just blech! I happen to love REAL hamburgers so the bar is very high when it comes to this particular food.
The concept, veggies and beans formed into a burger shape, is SUCH a good one. This way you have a portable, cooked, healthy snack that is easy to eat. It makes it easy to turn down all those burgers that you pass on your day (how many times did I drive by a burger yesterday?).
Solution? Isa Chandra Moskowitz and her new cookbook, "Appetite for Reduction". This book rocks! It features VEGAN recipes that are low in fat and they are just awesome.
Vegan, in case you don't know, means that ALL animal products are excluded from the recipes. I'm not just talking about meat, but also dairy and eggs are not eaten by vegans. They won't even touch the lowly anchovy!
You would think that all vegan cookbooks would be low in fat and sugar, but they aren't. Vegans still use oils and sugar, and while their recipes may be healthier than most, they still can pack a bunch of calories.
That is why "Appetite for Reduction" is so special. Isa paid attention to the calorie content of the food she created and her recipes are only 200-400 calories per serving. She includes all the nutrition facts for every recipe (but she left out the Weight Watchers Points, oh well).
The veggie burger below is 130 calories, and, honestly, I liked it better than a hamburger. The only part I didn't like was all the time it took me to make it (probably about 45 minutes).
Next time, I will double the recipe so that I can freeze some for later use.
These were too spicy for my kids, but I absolutely love them for an afternoon snack or lunch. They can be eaten at room temperature.
Isa has a great website - check her out at Post Punk Kitchen to learn about more vegan low-fat recipes.
Please share your favorite veggie burger brand or recipe.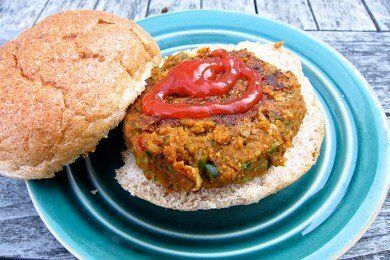 Chipotle Lentil Burgers Recipe
From the book Appetite for Reduction by Isa Chandra Moskowitz. Excerpted by arrangement with Da Capo Lifelong, a member of the Perseus Books Group. Copyright (c) 2010. Da Capo Press Cookbooks
(makes 6 burgers)
Ingredients
1 teaspoon olive oil
1 small red onion, cut into medium dice
1/2 pound zucchini, halved lengthwise and sliced 1/2 inch thick
3 cloves garlic, minced
1 cup lightly packed fresh cilantro, chopped (stems and leaves)
1 (15 ounce) can cooked lentils, drained and rinsed (1 1/4 cups)
1 cup bread crumbs
1/4 cup chipotles, seeds removed, with adobe sauce
2 tablespoons soy sauce
2 teaspoons red vinegar
1/4 teaspoon salt
2 teaspoons smoked paprika
Instructions
First, we're going to saute some veggies. Preheat a large, heave-bottomed nonstick pan, preferably cast iron, over medium-hugh heat. Saute the onion for about 3 minutes. Add the zucchini, garlic, cilantro, and a pinch of salt, and saute for 7 to 10 minutes, until the zucchini is soft.
Transfer the zucchini mixture to a food processor. Add all the other ingredients except for 1/2 cup bread crumbs. Did you hear me? Reserve 1/2 cup of the bread crumbs! Pulse until mostly smooth, but there should still be a little texture. Transfer to a large mixing bowl.
Preheat the pan (the same one you already used to saute in is fine) over medium heat. Add the remaining 1/2 cup of bread crumbs to the burger mixture and use a fork to thoroughly combine.
Divide the burger mixture into six equal pieces. An easy way to do this is divide it in half, then divide each half into three basically equal portions. You can do that right in the mixing bowl if it's large enough.
Spray the pan with non stick cooking spray. Form the burger portions into patties and cook for about 12 minutes, flipping the burgers often, until they are nicely browned on both sides. Use cooking spray as necessary. Do three at a time for best results.
They taste great served immediately but they're also excellent at room temperature, so don't be afraid to stuff one into a sandwich and take it for lunch.
Nutrition Facts
130 calories, 1.5 g fat, 23 g carbohydrates, 8 g protein, 7 g fiber, 510 mg sodium, 3 Points+
Points values are calculated by Snack Girl and are provided for information only. See all Snack Girl Recipes
Other posts you might like:
---

I recently noticed that my favorite brew pub has a VEGGIE burger on its menu. Yes, we have shifted a bit when it comes to our burger consumption....
---

This burger above has a secret. It is not as fattening as it seems. What did Snack Girl do?...
---
---
$24.99 $14.25 Buy on Amazon.com
As an Amazon Associate, I earn from qualifying purchases.
---
---
Get Free Email Updates! Yes please!
---