Need A Muffin That Will Fill You Up? Check out this Bran Muffin
I have to admit to hating bran muffins for most of my life. Then I decided to make my own, but I did encounter a few hurdles.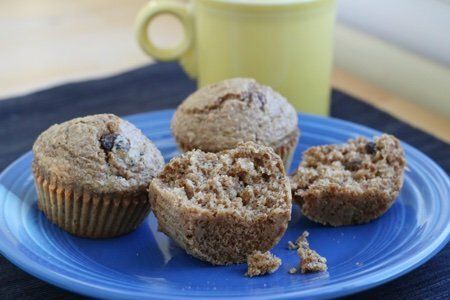 My husband, Matt, told me that he was going to the store and I asked him if he would mind picking me up some "wheat bran".

"All Bran?"

"No, wheat bran."

"What is wheat bran?"

"I don't know – just walk down the baking aisle and it should be there."

"Where?"

"AAAGH! Forget it."

Behold wheat bran!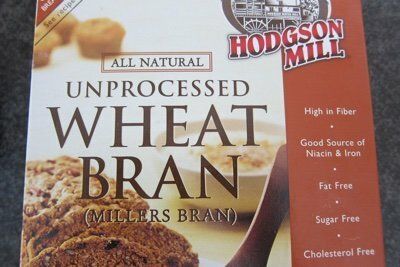 Right above the flour and a mere $2 for a box, supermarkets stock this source of insoluble fiber which is helpful for keeping your digestive system working properly (if you know what I mean).
This is a way to bulk up foods without adding a lot of calories and it is inexpensive.
I made these bran muffins below which were scrumptious. They are not too sweet and very moist. I ate one and that was all I needed.
The raisins account for ½ the sugar in this recipe so if you are looking to lower your sugar – don't use them.
Have you tried to find wheat bran? What recipes do you use it in?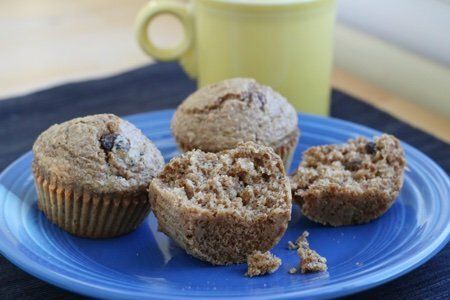 Bran Muffin Recipe

Makes 12 muffins

Ingredients
1 ½ cups wheat bran
½ cup boiling water
1/4 cup vegetable oil
1 large egg
½ cup brown sugar
1 teaspoon vanilla extract
1 cup buttermilk
1 cup all-purpose flour
1 teaspoon baking soda
½ teaspoon salt
½ cup raisins

Instructions
Preheat oven to 400 F. Line a muffin tin with 12 foil muffin liners.
Mix together ½ cup wheat bran and ½ cup boiling water in a small bowl and put to the side. The water will absorb into the wheat bran.
Beat together vegetable oil, egg, brown sugar, and vanilla until sugar dissolves a bit. Add the buttermilk and blend. Add wet wheat bran, remaining 1 cup of wheat bran, flour, baking soda, salt, and raisins and mix until well blended.
Spoon into muffin cups filling ¾ of the cup. Bake for 13-15 minutes. Check to see if a toothpick inserted into the muffin comes out clean.
Nutrition Facts
For one muffin = 149 calories, 5.5 g fat, 1.2 g saturated fat, 24.4 g carbohydrates, 10.6 g sugar, 3.5 g protein, 3.6 g fiber, 230 mg sodium, 4 Points+
Points values are calculated by Snack Girl and are provided for information only. See all Snack Girl Recipes
---
Get Free Email Updates! Yes please!
---