Light Instant Pot Chicken and Rice
This light Instant Pot chicken and rice is a keeper. Who doesn't love chicken and rice?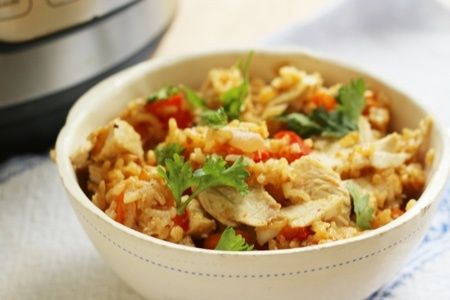 I'm pretty sure it is a standard for most households as it is so comforting. Almost any problem can be solved with chicken and rice.
My birthday requests included a comment asking for more Instant Pot recipes. I've had my Instant Pot for a while now and I keep making chicken recipes in it. I used the pressure cooker function for green salsa chicken in an instant pot and the slow cooker function for healthy slow cooker butter chicken.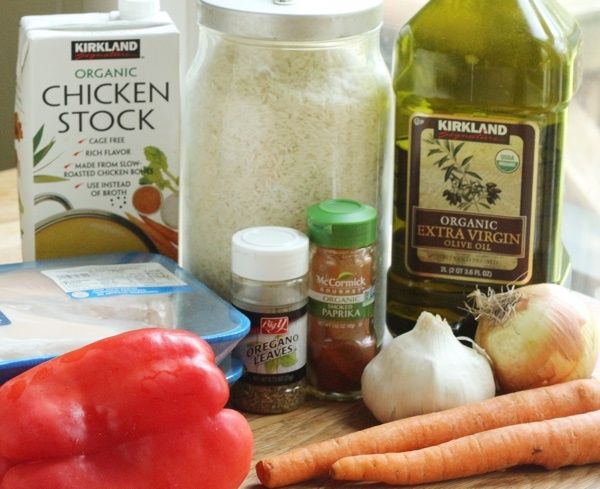 The reason why you would want to use the Instant Pot pressure cooker function for chicken breasts is that it helps seal in the juices so you don't get dry, rubbery chicken. Not only that but it is INSTANT!!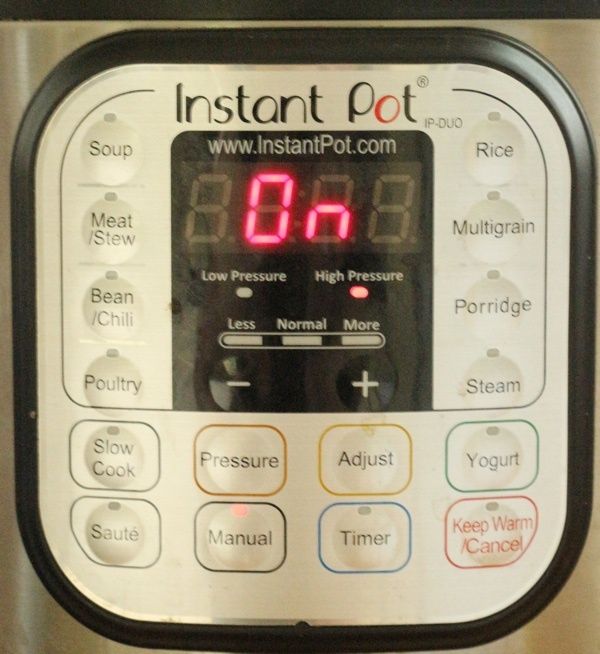 All you do is put the stuff in the pot and press a few buttons and you can walk away. Don't try that with a saute pan.
I never use the preset buttons on my pot. Typically, I hit MANUAL and then the amount of pressure and the time. It starts automatically. This recipe features a slow release so you allow the rice to soak up the liquid after it cooks. Trust me, it works. No crunchy rice!
This time, I had to push the buttons gingerly because of an injury.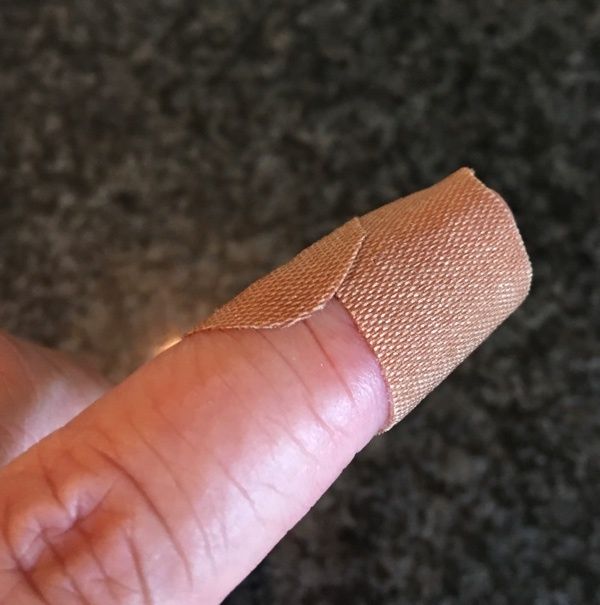 As you can see, my very sharp Chef's knife slipped off the bell pepper and into my finger. Note to self - cut up peppers on the rough side!! I was on the slippery skin side when I cut myself.
This finger is also the one I use to type and handle my computer mouse. Waaaah!
As long as you don't cut yourself, you will love this recipe. I made it lighter by adding less rice than a regular recipe. This way it is mostly protein and veggies.
Feel free to add olives, capers, lemon zest, or any fresh herbs you have hanging around to add more flavor. Chicken and rice can be a bit bland.
How do you make chicken and rice?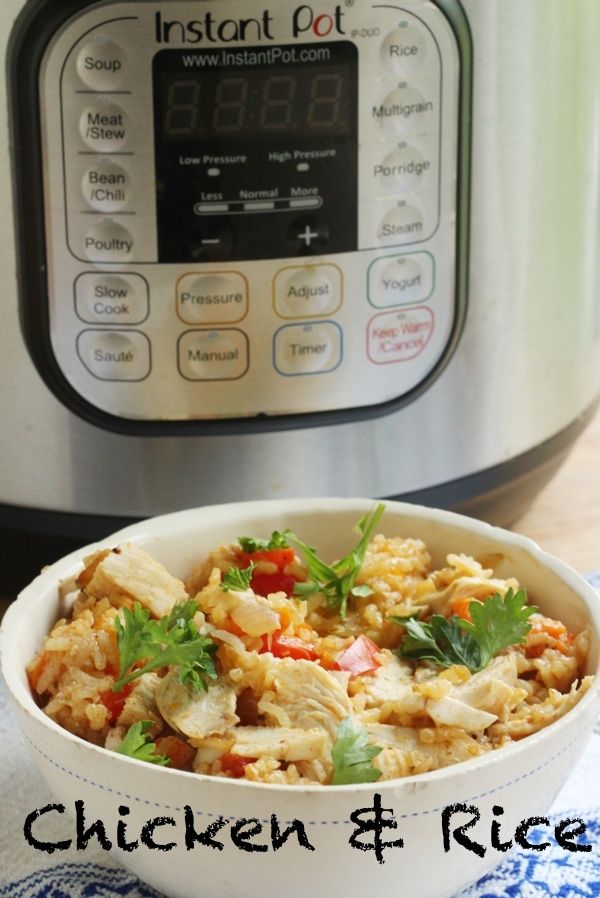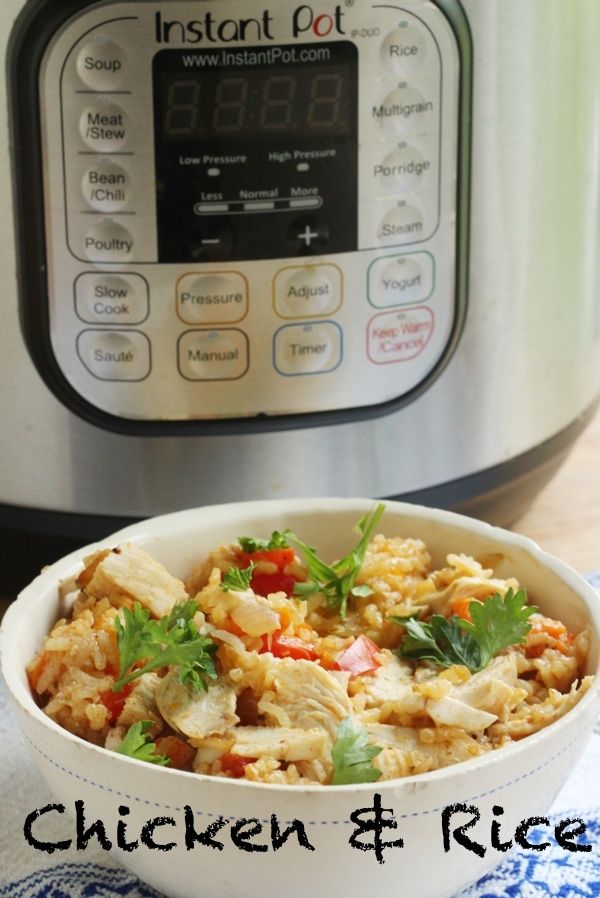 Instant Pot Chicken and Rice Recipe

Makes 8 servings

Ingredients
1 tablespoon extra virgin olive oil
1 medium onion, chopped
2 cloves garlic, minced
1 teaspoon oregano
1 teaspoon smoked paprika
1 cup short grain white rice (basmati, jasmine…)
1 1/4 cup low sodium chicken broth
2 carrots, peeled and diced
1 red bell pepper, seeded and chopped
2 pounds boneless, skinless chicken breasts
salt and pepper to taste
chopped parsley, optional

Instructions
Heat Instant Pot on the saute setting. Add olive oil and onion and cook until translucent (about 4 minutes). Stir in garlic, oregano, and smoked paprika and cook for 1 minute. Add rice, chicken broth, carrots, pepper, and chicken breasts and set the Instant Pot on manual high pressure for 8 minutes. After cooking has completed, all the pot to sit for 10 minutes to slowly release pressure.
Remove chicken breasts and slice thinly. Mix chicken in with rice, adjust seasonings, and serve with chopped parsley.
Nutrition Facts
For one serving (about 1 1/2 cups) = 331 calories, 4.6 g fat, 0.3 g saturated fat, 23.1 g carbohydrates, 2.2 g sugar, 48 g protein, 1.4 g fiber, 155 mg sodium, 3 Freestyle Pts
Points values are calculated by Snack Girl and are provided for information only. See all Snack Girl Recipes
Other posts you might like:
---

If you have been under a rock, you may not have noticed the Instant Pot. I made green salsa chicken in mine and it was a hit....
---

Time for you to try some healthy slow cooker butter chicken. I made mine in my Instant Pot but it will work in a slow cooker......
---
---
Get Free Email Updates! Yes please!
---