Makeover This Favorite Bar Food
This recipe is seriously fun. I was skeptical at first, but then I started enjoying myself.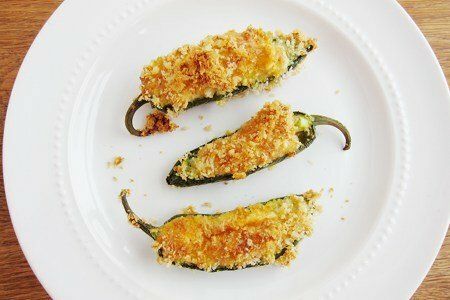 You see, I don't actually like recipes with lots of steps (I don't know if you have noticed). I like to be done as fast as you can say, "peanut butter sandwich".
But, I kept seeing this concept on other blogs and I was intrigued. First, you are making over a killer bar food. Deep fried jalapeno poppers from your local bar are a whopping 530 calories for seven of them. Ouch!
Secondly, you get to use jalapenos which are delicious. When working with hot peppers, ALWAYS wear a pair of gloves. I can't tell you how painful life will be without gloves because I wore them for almost every step of this recipe.
Finally, these are just yummy. I LOVED these (maybe a little too much) and will never touch one in a bar again.
These are kinda a production so make them for a party or an Oscar's get together. Your friends and family will think you are a hero for such a light and tasty snack.
How do you use jalapenos in recipes? Have you tried this?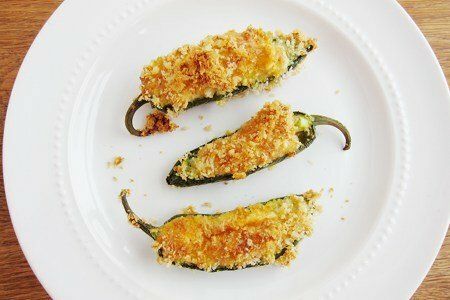 Baked Jalapeno Poppers Recipe

(makes 24)

Ingredients
5 ounces Neufchatel cheese (light cream cheese)
2 ounces grated cheddar
½ teaspoon cumin
½ teaspoon chili powder
12 medium sized jalapeno peppers
1 egg
1 egg white
½ cup Panko bread crumbs

Instructions
Preheat oven to 350 F. Mix cheese and spices in a medium bowl. Beat egg and egg white in a small bowl until a little frothy. Put bread crumbs in another small bowl.
Put on a pair of rubber gloves and slice jalapenos lengthwise. Core out the center and remove the seeds from each half. With gloves still on, put about 1 - 2 teaspoons of cheese filling into each half.
Dip filled jalapeno halves into egg mixture, then into bread crumbs. Put onto rimmed baking sheet and bake for 50 minutes until bread crumbs are golden brown. Enjoy!
Nutrition Facts
For one pepper half: 36 calories, 2.5 g fat, 1.5 g saturated fat, 1.6 g carbohydrates, 0.5 g sugar, 1.8 g protein, 0 g fiber, 100 mg sodium, 1 Points+
Points values are calculated by Snack Girl and are provided for information only. See all Snack Girl Recipes
Other posts you might like:
---

Last month, I featured a recipe swap with carrots as the featured vegetable. Thanks so much for sharing your recipes.
---

Do you ever get stuck with having to make something and not wanting to drive to the store?...
---
---
Get Free Email Updates! Yes please!
---