Pizza Without Guilt
Snack Girl doesn't believe in guilt about food. For me, there is no "good" food vs. "evil" food.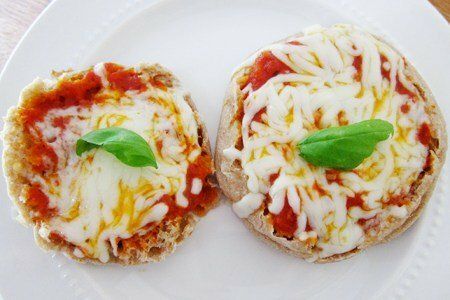 There are just treats and healthy choices. Pizza is one of those foods that could fall in either category BUT most of the time is a treat.
Why? Well, crazy pizzerias put a POUND of cheese on a pizza. Argh! Or they add chicken, bacon, and ranch dressing. Double argh!
The thing is pizza is one of my favorite foods. I was driving by a small country store with this sign out front and I had to laugh.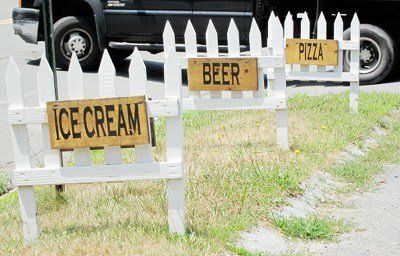 Ha! Those (in that order) are my favorite treats! Preferably, I will have pizza and beer followed by ice cream :)
You can make your own version of healthy pizza if you have a toaster oven or a broiler. Of course, you can also make your own crust, etc., but for now you need:
whole wheat English muffins
pizza sauce
shredded mozzarella cheese
You can find 100% whole wheat english muffins in the grocery store. Thomas's puts out a pretty gone one.
The pizza sauce can be any tomato based sauce, but it should NOT include cheese. Check the label - so many pasta sauces on the market now include a form of cheese. The problem, again, is the added calories, which almost none of us need.
Split the muffin, spread some sauce, and use 1/8 cup of cheese (that is one-half of 1/4 cup) and you got a 125 calorie snack. Put it in a toaster-oven or under the broiler for a few minutes and you are done. (Do not use the microwave - it will turn out yucky).
And now you have a chance to add some sliced peppers or other fruit or vegetable to make it even more healthy.
Finally, kids love this for an after-school snack. They can make it themselves, which is always a bonus.
For 1/2 ounce fresh mozzarella, 1/2 English muffin, and 2 tablespoons pizza sauce:
125 calories, 3.5 g fat, 16.6 g carbohydrates, 6.7 g protein, 1.5 g fiber, 311 mg sodium, 3 Points+
---
Other posts you might like:
---

Back to the black and white photo for a discussion about pizza. Why did I choose black and white?....
---

Some of my readers make whole wheat pizza dough, homemade tomato sauce, own a pizza stone, and create amazing pies in their oven. Thank you for reading Snack-Girl, Martha Stewart....
---