Love Late Night Desserts? Try This Healthy Version of Creme Brulee
For Snack Girl, there are two food groups that derail her mostly healthy eating efforts: alcohol and desserts. Don't you DARE mix the two together.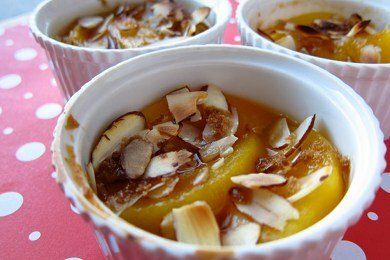 Back in July, "Midnight Snacker" e-mailed me her dilemma:
I have a challenge for you.. I love fruit tarts with fresh berries and creme brulee as the filling. I have a tendency to eat like a well " little piggy" at night and I am trying to lose weight.
I think the medication I am taking made me have cravings because a friend of mine is having the same problem. I need something that is healthy and that I could make ahead of time that won't pack on the pounds at night when I get cravings.
Honestly, I couldn't think of anything until now because to me a "light" creme brulee seemed silly. The ingredients are cream, sugar, and egg yolks. How can you make that over without destroying it?
Sometimes you need to think OUTSIDE the box a bit and envision what else could be custard like and low calorie. How about canned peaches or canned apricots?
Pacific Coast Producers sent me a pile of canned fruit to try and a recipe book - where I found inspiration. "Peach Brulee" is simply sliced canned peaches, sugar, and nuts heated under the broiler.
You use your oven for this recipe - and by the time it is heated up - you have assembled the ingredients which you probably have in your pantry right now.
Does it remind one of creme brulee? YES! Because, you get a custardy inside and a slightly charred CRUNCH on the outside.
The fruit version tastes delicious and if you miss the cream - you can always add some whipped cream to the top.
A single serving of real creme brulee is about 555 calories with 45 grams of fat. My peach brulee is 59 calories and 1.5 grams of fat. Go ahead - have a few :)
These would be great for a party because you can make them ahead and serve them cold or room temperature.
If you don't have ramekins, you should get some. I found my at a thrift store and they are very helpful when you want to enforce a small serving size.
This product was received for review consideration. No other compensation was provided.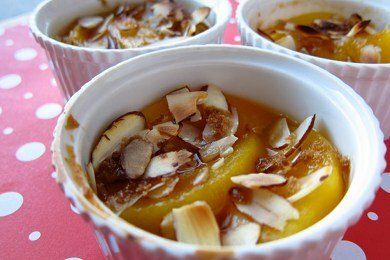 Peach Brulee Recipe

(adapted from Pacific Coast Producers)
(makes 8 ramekins)
1-15 ounce can sliced peaches in pear juice
1/4 cup packed brown sugar
1/4 cup sliced almonds or pecans, walnuts, hazelnuts, etc.

Preheat broiler to high. Put peach slices into ramekins (about 3 will fit in each one). Mix sugar and nuts and dust over peach slices. Broil close to heat for about 2 minutes until top is melted and slightly charred. Enjoy!
For one serving = 59 calories, 1.5 g fat, 11.1 g carbohydrates, 1.1 g protein, 0.9 g fiber, 4 mg sodium, 2 Points+
Points values are calculated by Snack Girl and are provided for information only. See all Snack Girl Recipes
$18.99 ($18.99 / Count) Buy on Amazon.com
As an Amazon Associate, I earn from qualifying purchases.
---
Other posts you might like:
---

Here at Snack Girl headquarters clothing is optional (for the 4 and under set). This is also true of our pies....
---

Snack Girl is not someone who thinks you should alter the almighty brownie treat. Why take something so indulgent and delicious and change it?....
---
---
Get Free Email Updates! Yes please!
---