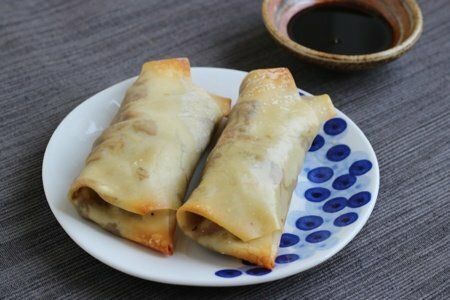 Baked Vegetarian Egg Rolls Recipe

Makes 20 Egg Rolls

Ingredients
1 tablespoon vegetable oil
1 medium onion, minced
2 cloves garlic, minced
2 tablespoons fresh ginger, minced
2 medium carrots, peeled and grated
4 cups cabbage, shredded
2 cups mushrooms, cleaned and minced
2 tablespoons Hoisin sauce
2 tablespoons soy sauce
20 egg roll wrappers

Instructions
mustard for dipping (optional)

Preheat oven to 400 F. Spray a rimmed baking sheet with canola oil or olive oil.
Heat vegetable oil in a large saucepan over medium high heat. Add onion, garlic, and ginger and sauté until the onion softens (3-5 minutes). Add carrots, cabbage, mushrooms, Hoisin sauce, and soy sauce and sauté for another 5 minutes until the cabbage has softened and the flavors have melded.
To assemble egg rolls, put ¼ cup filling in the center of the wrapper and follow the package directions. Basically, you make an envelope with the filling in the center. Spray finished egg rolls with canola or olive oil and bake for 12-15 minutes until browned.
Serve immediately to ensure crispiness with mustard for dipping.
Nutrition Facts
For one egg roll: 85 calories, 1.2 g fat, 0.0 g saturated fat, 16.8 g carbohydrates, 1.6 g sugar, 2.6 g protein, 1.2 g fiber, 190 mg sodium, 2 Points+
Points values are calculated by Snack Girl and are provided for information only. See all Snack Girl Recipes