An Egg Roll Makeover
Egg rolls were one of those foods that I always ordered if I was getting Chinese food. Until I met my husband and he ruined everything.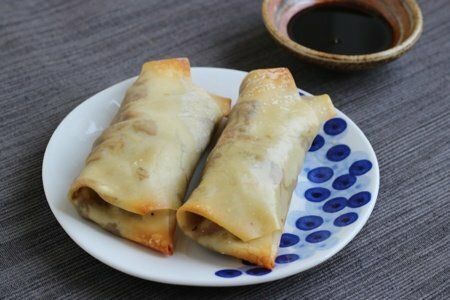 He doesn't like deep fried food. I don't know what is wrong with that guy, but he was aghast at my insistence that we order them. I didn't want an ENTIRE order to myself so I didn't get them.
After 13 years with my partner, I have stopped eating them. I did decide to try to make them to see if I could approximate the crispy, salty, tangy confection that is an egg roll. Of course, I wanted to do it without deep frying so I baked them.
Here are the nutrition facts for one egg roll at P.F. Chang's:
140 calories, 5.0 g fat, 1.0 g saturated fat, 37.0 g carbohydrates, 4.5 g protein, 1.5 g fiber, 1100 mg sodium, 6 Points+
The number that should blow your mind is the sodium. That is ONE egg roll folks and is your meal going to end there? 1100 milligrams of sodium is 46% of your daily value and more than the sodium you would find in an ENTIRE Big Mac (970 mg).
My egg roll is all vegetables and is a little bit of work. First, you must make the filling and then you roll it up into egg roll wrappers. The wrappers can usually be found next to the produce section in a refrigerated case.
I use my food processor to do all the heavy chopping to save time – mince the garlic, ginger, onion, mushrooms and shred the carrot and cabbage.
The Hoisin sauce can be found in the "Asian" section of your supermarket next to the soy sauce. Do use fresh ginger for this recipe. It has a great punch of flavor that makes this work since you are using much less salt.
See here for a cute video on how to fold them:
This is a good job for someone who is sitting around trying to watch TV or read a book. Put them to work!
Have you tried to make your own egg rolls?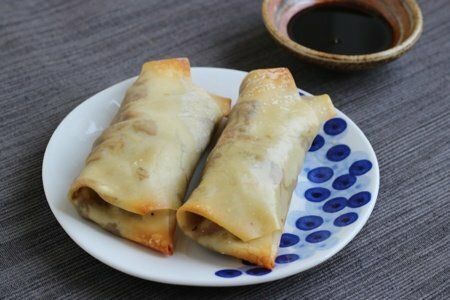 Baked Vegetarian Egg Rolls Recipe

Makes 20 Egg Rolls

Ingredients
1 tablespoon vegetable oil
1 medium onion, minced
2 cloves garlic, minced
2 tablespoons fresh ginger, minced
2 medium carrots, peeled and grated
4 cups cabbage, shredded
2 cups mushrooms, cleaned and minced
2 tablespoons Hoisin sauce
2 tablespoons soy sauce
20 egg roll wrappers

Instructions
mustard for dipping (optional)

Preheat oven to 400 F. Spray a rimmed baking sheet with canola oil or olive oil.
Heat vegetable oil in a large saucepan over medium high heat. Add onion, garlic, and ginger and sauté until the onion softens (3-5 minutes). Add carrots, cabbage, mushrooms, Hoisin sauce, and soy sauce and sauté for another 5 minutes until the cabbage has softened and the flavors have melded.
To assemble egg rolls, put ¼ cup filling in the center of the wrapper and follow the package directions. Basically, you make an envelope with the filling in the center. Spray finished egg rolls with canola or olive oil and bake for 12-15 minutes until browned.
Serve immediately to ensure crispiness with mustard for dipping.
Nutrition Facts
For one egg roll: 85 calories, 1.2 g fat, 0.0 g saturated fat, 16.8 g carbohydrates, 1.6 g sugar, 2.6 g protein, 1.2 g fiber, 190 mg sodium, 2 Points+
Points values are calculated by Snack Girl and are provided for information only. See all Snack Girl Recipes
Other posts you might like:
---

It is with a heavy heart that I criticize Chinese food here in the United States. Frankly, I used to live on this stuff until a doctor woke me up....
---

Deep frying food is cheating in my book. You can make a pencil taste delicious if you deep fry it....
---
---
Get Free Email Updates! Yes please!
---