The Most Satisfying, Lowest Calorie, & Easiest Chocolate Dessert Ever Created
Yeah, baby, it is springtime. Whoot! Whoot! How about them 2 for 1 strawberries rolling into your super and farmer's markets?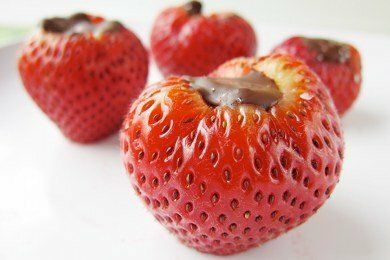 Yum!! Now, I like to just slice them up and toss them into lunch boxes, salads, my mouth....you know what I am sayin'. If you have a few extra minutes, you can make a dessert that is not only fun to make, but incredibly delicious.
Slice the bottom of the strawberry so it will stand up and then core it. I like to just rip off the leaves with my fingers and just use my thumb to get all the green part out of the berry. It isn't elegant - but when you are in a hurry and can't find your knife - it works.
Then, you melt some chocolate. I figured I used a mere TWO chocolate chips for each strawberry. I did use very nice bittersweet Ghiradelli chocolate chips because I love this chocolate. I melted them quickly in a bowl in a microwave. You could use the stove if you prefer - you don't need to get them very pourable - just spoonable into the strawberry.
The final touch is to shake a little coarse salt onto these babies. Kosher salt, which can be found right next to the Morton's in the baking aisle, is a common kind of coarse salt.
Put them into the refrigerator for maybe 5 minutes and you are done! Brilliant, no? If you are having a party, you can make them ahead and bring them out when you are ready to serve them.
I decided to call these "Strawberry Chocolate Bombshells" because you are going to feel like a bombshell when you eat them. You will also be on your journey to looking like a bombshell if you choose these over, let's say, brownies :)
Kids love making them. My 8 year old daughter gets a big thrill out of using a butter knife to cut strawberries on the cutting board. My son just tries to spoon all the chocolate in his mouth when I'm not looking.
These are only 17 calories each so don't feel bad about overindulging. Think about all that vitamin C you are consuming. One strawberry has 28% of your daily value!
You can make this vegan if you use vegan chocolate chips and they are gluten free.
What is your favorite way to serve fresh strawberries?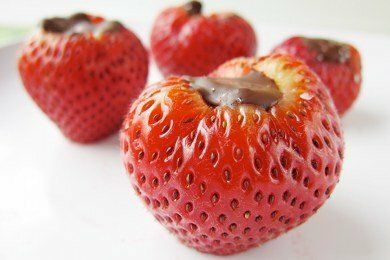 Strawberry Chocolate Bombshells Recipe
(makes 10)
Ingredients
10 fresh strawberries, hulled
16 chocolate chips
coarse salt (optional)
Instructions
Slice tip of strawberries and place on plate. Melt chocolate and spoon into top of strawberry (where the leaves have been removed). Sprinkle on a wee bit of coarse salt and refrigerate until hardened. Enjoy!
Nutrition Facts
For one strawberry = 17 calories, 0.5 g fat, 3.1 g carbohydrates, 2.2 g sugar, 0.3 g protein, 0.6 g fiber, 10 mg sodium, 0 Points+
Points values are calculated by Snack Girl and are provided for information only. See all Snack Girl Recipes
Other posts you might like:
---

Have you ever made a traditional Strawberry Shortcake? Well, I have and the "shortcake" part calls for cream AND butter. Wowza!
---

The search for "healthy" and "holiday" continues at Snack Girl headquarters (AKA my house). These Santa Hats are the latest find....
---
---
Get Free Email Updates! Yes please!
---