How Eating Locally Could Help You Lose Ten Pounds
See that sign up there? I drove past that spot yesterday on my way home from the office.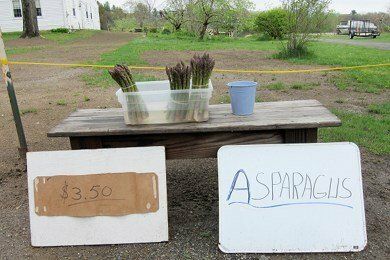 Yes, this lovely asparagus was grown on the same street that I live on. SCREEEEEEETCH went my brakes as I grabbed some fresher than fresh asparagus.
The truth is that I have to go OUT OF MY WAY to eat unhealthy food. I know that I am incredibly lucky to be living in such fertile farm land. My house was built where an orchard once stood and I can get local apples all year long.
Enough bragging.
So, I met someone who takes local to a whole level and I thought I would interview her to learn more about incorporating local food in my diet. Mary writes The Valley Locavore and she is a guru for finding, cooking, and eating local food.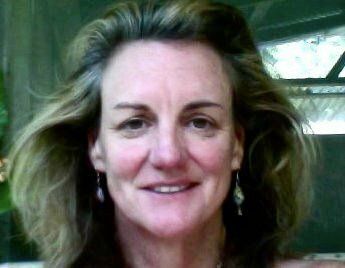 Snack Girl: What exactly is a Locavore?
Mary: A locavore is someone who eats food grown within 100 miles of her home.
Snack Girl: Why did you choose to become a Locavore?
Mary: I chose to become a locavore because of a guy. He fed me from his garden and I never tasted better food. Also because eating locally is better for the environment and the local economy.
No shipping necessary, just a ride in the car or a bike ride. Eating locally is healthier and less fattening. No preservatives, hormones or high fructose corn syrup means less calories. I have lost 10 pounds eating this way.
Snack Girl: Is it more expensive for you to feed yourself from only local sources than buying food from supermarkets?
Mary: I believe it is cheaper to eat locally. My partner and I have a combined food budget of $18 a day. We are have shares in three farms: meat, grain and veggie/fruit.
Our milk, eggs and cheese, granola come from local people and stores. I learned to make my own bread and crackers. Our daily budget does not include coffee or wine (which I cannot buy locally) and going out to restaurants. We are human, after all!
Snack Girl: Is it difficult finding local food in the winter here in New England? Have you thought of moving to the tropics where you can get fresh fruit all year round?
Mary: Ha! I often think of tropics or California! The above photo of me blissed-out in Costa Rica - bananas are free!!!
At first, it was very difficult surviving on food in winter that is sourced locally but then it gets to be fun once you know your way around. Not only do you get to know your grower, recent developments in the local food movement make it easier than ever to eat locally in New England:
1) Local grain is available for making bread, crackers & wheatberry salad
2) Extended season growing is taking off. Farms with hoop houses serve up hearty greens all winter. Hearty greens such as kale, mustard greens and chard can be had at farms and winter farmers markets for most of winter (except April). In addition, cold storage is being adopted by farms and orchards making onions, potato, carrot, leek, apples and pears available all year round.
Don't forget that cheese, mushrooms, meat, sprouts, yogurt, milk, butter, potatoes, onions, maple syrup, if you are lucky, fish, are available locally in winter.
Finally, the best part is that I have learned to can tomatoes which is very fun, only a day a year and it makes a big difference. You don't realize how much tomato sauce you consume until you don't have it. I preserve other things to make winter better.
Pickling onions, rhubarb as well as freezing blueberries and canning peaches make all the difference in January. Wheatberry salads are amazing with little pickled things sometimes sweet, some times with vinegar sometimes both.
Eating this way means getting off your rump and meeting new friends. There are worse ways to live! Making bread from scratch changes your life.
Snack Girl: What is your recommendation for those who want to start to eat locally? How do they start to learn about the farmers or sources that support them?
Mary: Begin eating locally by checking out area farms and buying from them. Start with the Farmers' Market.
There are also roadside stands selling local food and CSA's (Community Supported Agriculture) which sell shares in their farms. You pay $200 or $300 up front for the season and pick up local food every week.
Google the name of your town and the words 'farm' or 'local food' or 'CSA' and that will lead you to websites of farms. Look for "farm to table" restaurants around, big cities and small towns.
Snack Girl: What is your favorite snack?
Mary: Favorite locavore snack is local popcorn.
Please share your experiences and advice on finding and eating local food.
---
Other posts you might like:
---

Last week, Snack Girl complained about the high price of organic produce (see: How Important Is It To Buy Organic?). This week she did something about it....
---

Snack Girl lives in the middle of nowhere. Sometimes, this isn't so bad - notice how this barn roof is the same color as the Golden Gate Bridge?....
---