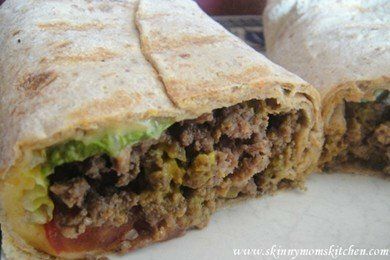 Skinny Kitchen's Cheeseburger Wrap Recipe
(5 servings)
Serving size: 1 wrap filled with 1/2 cup beef, 1 slice cheese, lettuce, tomato slices, ketchup, and mustard.

Ingredients
1 pound ground beef (I used 93/7 organic grass fed beef)
1 tablespoon Worcestershire sauce
1 tablespoon ketchup
1 tablespoon grated parmesan
1 teaspoon dried onion flakes
1/8 teaspoon pepper
1/8 teaspoon salt
5 100 calorie wraps (I use Flatout Wraps)
5 slices sharp American cheese (I use Land o Lakes)
2 Roma tomatoes, sliced
1 cup of romaine lettuce
Additional ketchup (optional)
Mustard (optional)
Instructions
Step 1: In a medium to large skillet coated with cooking spray cook the beef on medium till almost cooked through but still a little pink (about 7-10 minutes). Break beef up as it cooks.
Step 2: Add Worcestershire, ketchup, grated parmesan, dried onion flakes, salt, and pepper to the beef. Mix together until thoroughly combined.
Step 3: Continue cooking until beef is cooked all the way through and is no longer pink.
Turn on indoor grill to 350 or you can also use a grill plan.
Step 4: In the center of the wrap place a slice of cheese and 1/2 cup of the beef mixture. Add tomato and lettuce. Then if you are using, and I highly recommend you do, add some ketchup and mustard.
Step 5: Roll the wrap and place seam side down on grill. Once there are nice grill marks turn over. Grill for another 2-3 minutes then remove.
Repeat steps 4 and 5 for the rest of the wraps. Enjoy!
Nutrition Facts
One wrap is 329 calories, 15 g fat, 21 g carbohydrates, 32 g protein, 9 g fiber, 8 Points+
Points values are calculated by Snack Girl and are provided for information only. See all Snack Girl Recipes