How Tammy Fit Cheeseburgers Into Her Weight Loss Plan
Tammy, the author of Skinny Mom's Kitchen, is dedicated to helping busy moms eat healthier and lose weight by teaching them how to combine calorie awareness with menu planning, freezer cooking, and other make ahead cooking strategies.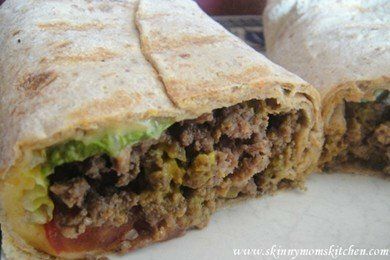 She loves showing others how easy, and affordable, it is to serve their family healthy nutritious meals everyday.
She sent me this guest post and recipe and I am sure you will find her story helpful.
From Tammy:
Two years ago I made the commitment to get healthy and lose weight. It was at that time my weight peaked at 177 pounds – a 60 pound weight gain over the last 12 years!
This weight gain was the result of eating too many calories, making poor food choices, a very sedentary lifestyle and not making health a priority. Sure I am a mom, and would like to think that I am burning enough calories running after my kids but I wasn't and that was proven every time I stepped on the scale. I felt defeated.
Then the light bulb moment happened and my attitude about food, nutrition, and dieting changed forever. In October 2010, a friend introduced me to the free online food journal My Fitness Pal. The first day I implemented this tool I recognized the extent of my nutrition and calorie ignorance. Immediately, I discovered that I was consuming around 3000 calories a day!
Just in case you don't know, that is about 1000 calories extra a day – it is no wonder I put on 60 pounds over the last decade. Also, the foods I was consuming were not very nutritious which is why I always felt unsatisfied and hungry an hour after eating.
Everything I thought I knew about food was either skewed or completely wrong. Some may find this discouraging but to me it was liberating. Why you ask? Because it was at that point I knew I had no one else to blame but myself and the power to change was in my hands.
At that point I was ready to make changes. However, I knew those changes needed to be a slow and steady process. In the past, I would jump into the latest gimmick or fad diet only to have failed results. I finally realized that it took 12 years to pack on the pounds and the weight was not going to disappear overnight.
I knew I had to make lifestyle changes that would help my family and I embrace a healthy lifestyle that was achievable and sustainable. There were many changes I made but the one that got my family on board was learning to create healthier renditions of the foods my husband and kids love to eat. When I prepare homemade meals I control the ingredients and portions. This in itself can increase nutrition while decreasing calories.
Again, in the past, when I would begin a diet or weight loss plan I immediately created a mental list of all the "bad foods" I needed to "give up". Right away, this would turn off my family because who wants to be deprived of all the foods they grown to enjoy and love? Nobody.
Now instead of depriving my family of the foods they love I provide them with healthier and, if I do say so myself, tastier versions. In fact, by cooking more meals at home we are able to enjoy foods that I never thought would be possible for people trying to get healthy and lose weight.
One of our favorite recipes is the Skinny Mom's Kitchen Grilled Cheeseburger Wrap.
This wrap is delicious and will satisfy any craving you have for an unhealthy fast food hamburger. I hope this recipe shows that, with a few changes, it is possible to include many, if not all, of the foods you love into your weight loss plan.
Find Tammy at Skinny Mom's Kitchen, Facebook, Twitter, and Pinterest.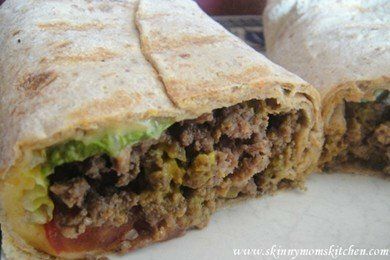 Skinny Kitchen's Cheeseburger Wrap Recipe
(5 servings)
Serving size: 1 wrap filled with 1/2 cup beef, 1 slice cheese, lettuce, tomato slices, ketchup, and mustard.

Ingredients
1 pound ground beef (I used 93/7 organic grass fed beef)
1 tablespoon Worcestershire sauce
1 tablespoon ketchup
1 tablespoon grated parmesan
1 teaspoon dried onion flakes
1/8 teaspoon pepper
1/8 teaspoon salt
5 100 calorie wraps (I use Flatout Wraps)
5 slices sharp American cheese (I use Land o Lakes)
2 Roma tomatoes, sliced
1 cup of romaine lettuce
Additional ketchup (optional)
Mustard (optional)
Instructions
Step 1: In a medium to large skillet coated with cooking spray cook the beef on medium till almost cooked through but still a little pink (about 7-10 minutes). Break beef up as it cooks.
Step 2: Add Worcestershire, ketchup, grated parmesan, dried onion flakes, salt, and pepper to the beef. Mix together until thoroughly combined.
Step 3: Continue cooking until beef is cooked all the way through and is no longer pink.
Turn on indoor grill to 350 or you can also use a grill plan.
Step 4: In the center of the wrap place a slice of cheese and 1/2 cup of the beef mixture. Add tomato and lettuce. Then if you are using, and I highly recommend you do, add some ketchup and mustard.
Step 5: Roll the wrap and place seam side down on grill. Once there are nice grill marks turn over. Grill for another 2-3 minutes then remove.
Repeat steps 4 and 5 for the rest of the wraps. Enjoy!
Nutrition Facts
One wrap is 329 calories, 15 g fat, 21 g carbohydrates, 32 g protein, 9 g fiber, 8 Points+
Points values are calculated by Snack Girl and are provided for information only. See all Snack Girl Recipes
Other posts you might like:
---

Snack Girl has been looking for a packaged veggie burger to endorse as a great snack. And, she hasn't found one :(...
---

What are that fork and knife doing? Is that legal?...
---
---
Get Free Email Updates! Yes please!
---