Delectable, Simple, and Adorable Santa Hats
The search for "healthy" and "holiday" continues at Snack Girl headquarters (AKA my house). These Santa Hats are the latest find.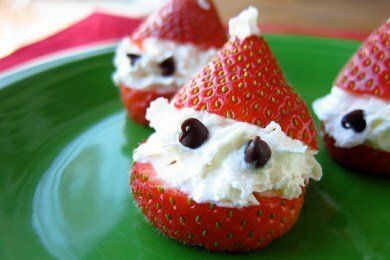 AWWWWWW :)
I was cruising around the California Strawberry Facebook page when I saw these and I thought, "Hey, I can do that!".
Right about now, a good friend of mine is driving over to complain about featuring strawberries in DECEMBER. Have you looked outside your window? Mine was covered with frost this morning and it was a chilly 19F.
I found these fresh strawberries in my local supermarket for $2.50 per pound and they were grown in Mexico. Mexico's climate probably allows for fresh strawberries year round.
They did taste pretty yummy. It is harder to find affordable and delicious fresh strawberries in December - but, clearly not impossible.
I think these are a super treat for December. In the spring, I am lucky enough to be near farms that allow me to pick my own. I thought it would be fun to take my four year old son to this activity (and he's short so I thought he would be a good picker).
Sadly, Alex sat in the car the entire time and yelled for me to bring him strawberries. As I sweated and stooped, he ate and ate until I thought I would be driving a massive strawberry home in the car instead of a child. oh well :)
Santa Hats are fun to make and SO much easier than making Christmas cookies. No mixing and baking here! Just slice and add some whipped cream. I would not make them ahead for a party because I doubt they would hold together.
You could use cake frosting to make them and then you would have something more stable for serving. I'm not sure they would taste as good - strawberries and cream is such a classic combination.
It is a bit difficult to figure out the calorie content of this recipe. Strawberries range quite a bit in size and people can be quite heavy with the whipped cream.
A strawberry has about 9 calories and a tablespoon of pressurized whipped cream in about 25 calories. Just figure 35 calories each - you get to eat THREE of these for every ONE Christmas cookie.
Do you have a fast, healthy holiday dessert? Please share.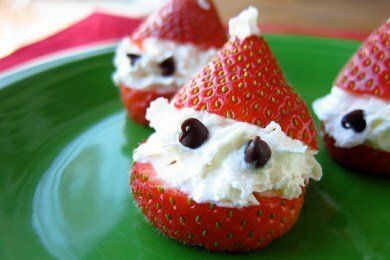 Strawberry Hats Recipe

(makes 4 servings)

Ingredients
1 pound fresh strawberries
1 canister whipped cream (heavy or light)
mini semi-sweet chocolate chips (optional)

Instructions
Wash and hull strawberries. Slice a 1/4 inch slice on the bottom and spray 1 tablespoon of whipped cream. Place "hat" on top and dab with more whipped cream. Insert chip eyes for added cuteness. Enjoy!
Points values are calculated by Snack Girl and are provided for information only. See all Snack Girl Recipes
Other posts you might like:
---

Putting the words "healthy" and "holiday" together seems a bit, well, silly. The holidays are a celebration and I love to forget about "healthy" this time of year....
---

Have you ever made a traditional Strawberry Shortcake? Well, I have and the "shortcake" part calls for cream AND butter. Wowza!
---
---
Get Free Email Updates! Yes please!
---