An Iced Coffee Solution To The Liquid Calorie Problem
I have followed the new "soda ban" in New York City with much interest. Seems many are calling NYC a "nanny state".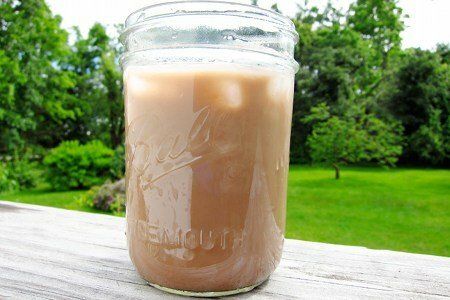 Frankly, I could really use a nanny :)
The "soda ban" is for delis, restaurants, movie theaters, and (my hunch) 7-Eleven. The mayor is restricting these venues from selling a soda larger than 16 ounces. I don't want to go into the politics or details of this law - but I think it brings up an interesting point about beverages.
I'm sure most of you know about the "Big Gulp" from 7-Eleven. I have purchased the 32 ounce behemoth when trying to drive long distances and stay awake. No, I'm not proud of the strategy but I honestly never thought I would finish it.
The problem is that our bodies do not register calories in beverages. Our stomach doesn't get full when we drink the Big Gulp - the drink just passes right through. All the signals that tell our brain that we are full are missed. So, we just keep drinking and 32 ounces of soda later - we are slurping the end of the cup (and we have to pee).
New York City could have easily picked on Starbucks or other iced coffee drink purveyors when they instituted this ban. These drinks can be sugar bombs, and they are large. I paid $4 for a Iced Cafe Mocha the other day because I was hot and I couldn't resist (290 calories).
Then, I got to thinking about Mason jars. Why? Because a friend of mine, Steve, was drinking an iced coffee from a Mason jar and I thought it was so cool. Mason jars are hip!
What if you pre-made your iced coffee treat so you never go to Starbucks again? How hard could that be?
I got out my Mason jar and started brewing. I used unsweetened almond milk for the "milk" portion of the drink because it doesn't spoil like cow's milk and I wanted to make a bunch of these.
All you do is brew your favorite coffee (decaf, hazelnut, etc.), pour it into the jar. Mix in the almond milk and chocolate syrup and store in the refrigerator with the lid. When you are ready to have your treat - dump in some ice cubes and head for your verandah, porch, or couch.
(I love the word "verandah".)
Isn't that amazing? Save money, the environment (reusable cup), and calories in one swoop and it is super yummy.
Do you have a strategy for sugary beverage consumption?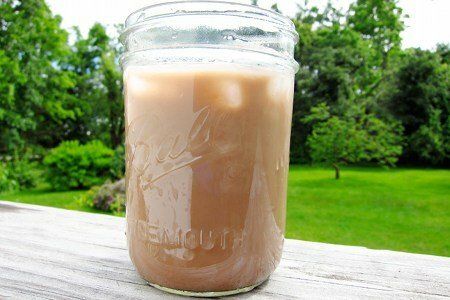 Iced Mocha Recipe
(makes one)
Ingredients
1/2 cup coffee (of your choice)
1/2 cup unsweetened almond milk
1 tablespoon chocolate syrup (such as Hershey's)
Instructions
Mix coffee, almond milk, and syrup in jar. Store, covered, in fridge until ready to drink. Add lots of ice cubes and enjoy!
Nutrition Facts
For one mason jar = 74 calories, 1.7 g fat, 13.2 g carbohydrates, 9.3 g sugar, 1.0 g protein, 1.0 g fiber, 106 mg sodium, 2 Points+
Points values are calculated by Snack Girl and are provided for information only. See all Snack Girl Recipes
Other posts you might like:
---

Snack Girl is always on the hunt for drinks that will replace soda, sweet tea, and lemonade without anyone noticing they are gone....
---

Snack Girl recently got a question about Monster Rehab and she got excited. Rehab? Maybe Monster has become healthier....
---
---
Get Free Email Updates! Yes please!
---