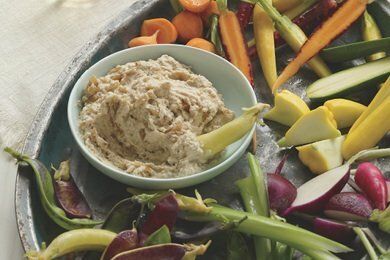 Chunky Onion Dip Recipe
Reprinted from "Flavor First" by Cheryl Forberg. Copyright (c) 2011 by Cheryl Forberg. By permission of Rodale, Inc. Available wherever books are sold.
Caramelizing is one of my favorite ways to add layers of rich flavor to the simplest of ingredients, in this case, plain yellow onions. It takes a little bit of time for the onions to caramelize, but the end result is worth it. This dip is positively addictive when served with a colorful platter of crudites.
MAKES 12 (1/4-CUP) SERVINGS
Ingredients
2 1/2 pounds yellow onions, peeled
1 tablespoon olive oil
1 teaspoon salt
1 tablespoon onion powder
4 ounces neufchatel cream cheese, room temperature
3/4 cup fat-free plain Greek yogurt
Flat-leaf (Italian) parsley leaves, for garnish (optional)
Instructions
Halve the onions lengthwise and then slice them crosswise into 1/8-inch-thick half-rounds. There will be about 4 cups.
In a large skillet, heat the oil over medium heat. Add the onions and salt and cook for 2 to 3 minutes. Reduce the heat to low, cover, and cook, stirring occasionally, for 15 minutes, or until the onions are soft and beginning to release their juices. Continue to simmer uncovered, stirring occasionally, for 15 to 20 minutes longer, or until the onions are lightly browned and caramelized. Allow to cool. There will be about 2 cups.
Place the onions in a food processor and pulse a few times to chop. Remove half of the onions and transfer them to a bowl. To the remaining onions in the food processor, add the onion powder and process until pureed. Add the cream cheese and yogurt and process just until smooth. Transfer the mixture to the bowl and fold into the chopped onions.
Taste and season as needed. Chill for at least 1 hour. Transfer the dip to a serving bowl and garnish with parsley leaves, if desired.
Nutrition Facts
Per serving: 80 calories, 3 g total fat (1 g saturated), 5 mg cholesterol, 230 mg sodium, 11 g total carbohydrates (5 g sugars), 1 g fiber, 3 g protein, 2 Points+
Points values are calculated by Snack Girl and are provided for information only. See all Snack Girl Recipes