French Onion Dip With Zero Guilt
When someone shows up to your house with sour cream, French onion soup mix, and a bag of Ruffles - you know you are in heaven.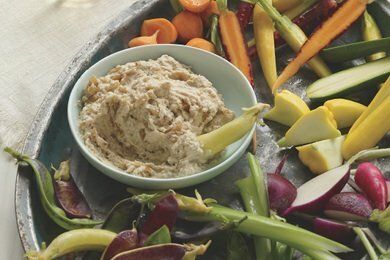 Alas, at 200 calories for FOUR tablespoons of French onion dip, you can probably eat enough to feel your butt grow as you consume it.
But, it tastes SOOOO good. No worries because my pal, Cheryl Forberg ("The Biggest Loser" nutritionist) has come out with a recipe and a book to solve your problems.
The problem is that "tasting good" and "good for you" can be two very different things. Her solution is to put "Flavor First" which is the title of her book.
Her thesis is that Americans have become so accustomed to the intense (and artificial) flavors of highly processed food that our senses are overwhelmed. So, she has created a whole bunch of recipes that have ROCKIN' flavors and are good for you so you won't want that crap you were eating before.
Well, I made this recipe for "Chunky Onion Dip" and I can tell you that it is delicious. I used Cheryl's photo because my photo looked like, well, throw-up (onion dip is hard to shoot).
The onions become sweet after you caramelize them and the non-fat greek yogurt and neufchatel cream cheese are a lower fat "sour cream". Honestly, I couldn't tell the difference.
For you Weight Watchers fans out there, a 1/4 cup is only 2 points and you can munch away on your zero point veggies. This is a wonderful snack.
My kids liked it because it is sweet and they ate quite a few fresh veggies without noticing they were eating them. Hurray!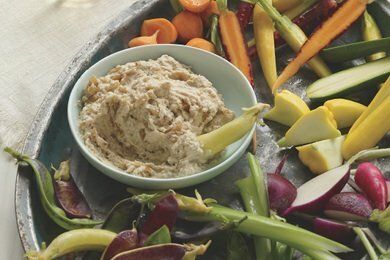 Chunky Onion Dip Recipe
Reprinted from "Flavor First" by Cheryl Forberg. Copyright (c) 2011 by Cheryl Forberg. By permission of Rodale, Inc. Available wherever books are sold.
Caramelizing is one of my favorite ways to add layers of rich flavor to the simplest of ingredients, in this case, plain yellow onions. It takes a little bit of time for the onions to caramelize, but the end result is worth it. This dip is positively addictive when served with a colorful platter of crudites.
MAKES 12 (1/4-CUP) SERVINGS
Ingredients
2 1/2 pounds yellow onions, peeled
1 tablespoon olive oil
1 teaspoon salt
1 tablespoon onion powder
4 ounces neufchatel cream cheese, room temperature
3/4 cup fat-free plain Greek yogurt
Flat-leaf (Italian) parsley leaves, for garnish (optional)
Instructions
Halve the onions lengthwise and then slice them crosswise into 1/8-inch-thick half-rounds. There will be about 4 cups.
In a large skillet, heat the oil over medium heat. Add the onions and salt and cook for 2 to 3 minutes. Reduce the heat to low, cover, and cook, stirring occasionally, for 15 minutes, or until the onions are soft and beginning to release their juices. Continue to simmer uncovered, stirring occasionally, for 15 to 20 minutes longer, or until the onions are lightly browned and caramelized. Allow to cool. There will be about 2 cups.
Place the onions in a food processor and pulse a few times to chop. Remove half of the onions and transfer them to a bowl. To the remaining onions in the food processor, add the onion powder and process until pureed. Add the cream cheese and yogurt and process just until smooth. Transfer the mixture to the bowl and fold into the chopped onions.
Taste and season as needed. Chill for at least 1 hour. Transfer the dip to a serving bowl and garnish with parsley leaves, if desired.
Nutrition Facts
Per serving: 80 calories, 3 g total fat (1 g saturated), 5 mg cholesterol, 230 mg sodium, 11 g total carbohydrates (5 g sugars), 1 g fiber, 3 g protein, 2 Points+
Points values are calculated by Snack Girl and are provided for information only. See all Snack Girl Recipes
currently unavailable Buy on Amazon.com
As an Amazon Associate I earn from qualifying purchases.
---
Want to read about snacks?
Wow Your Friends This Memorial Day With Salad Sticks
McDonald's Frozen Strawberry Lemonade: Don't Believe The Hype
A New Meaning For The Word "Grass"
Vegan Cupcakes Have Taken Over The World
---
Get Free Email Updates! Yes please!
---