If it is good enough for NASA is it good enough for you?
March 5, 2009
What can I say? This one is tough (ha!), shoe leather tough in fact. I bought this package to review for Snack Girl and I literally can't eat it. This has got to be one of the first that I find myself totally unable to swallow or chew.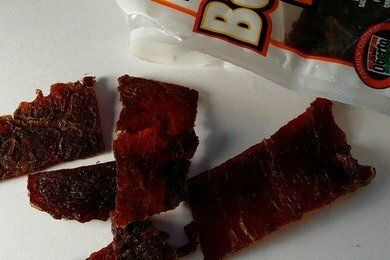 If you like beef jerky, then the low fat format should be the way to go. The same size of regular beef jerky sets you back 210 calories. You get an entire bag and it only costs you 100 calories, and you get 26% of your daily allowance of protein. It is low calorie and nutritious, but it does have alot of chemicals.
I'm not sure why dried beef needs so many extra flavoring agents. The package I bought had corn syrup, brown sugar, salt and sugar. I think you can find beef jerky that is just smoked and has less chemicals. I would hunt it down for you, but I hate the stuff.
While most of us have remained on the earth (thank you gravity!), beef jerky has gone to space. Here is a link to the NASA menus for astronauts. Enjoy!
http://spaceflight.nasa.gov/shuttle/support/processing/spacefood/menus.html