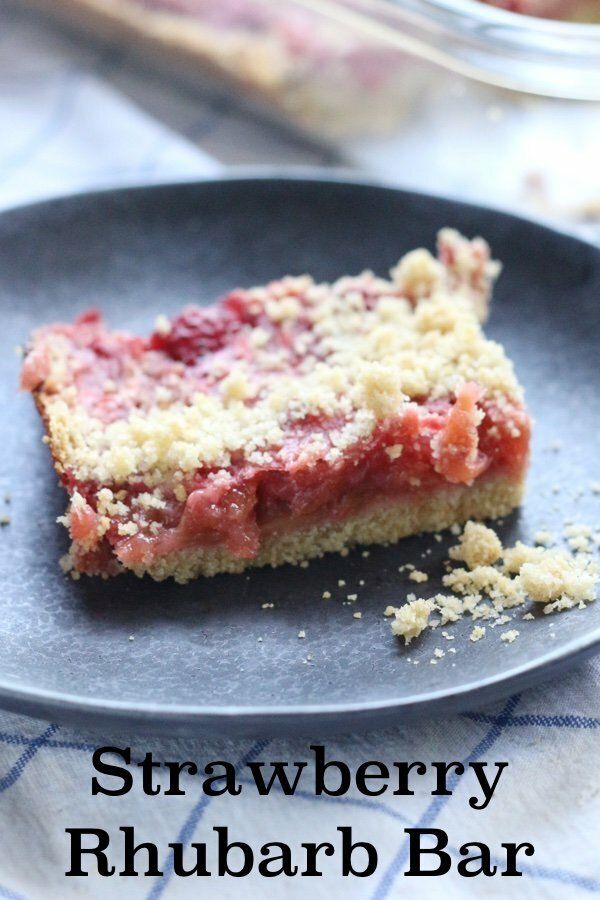 Low Sugar Rhubarb Bars

Makes 18 bars
Crust
Ingredients
1 cup almond flour or almond meal
1 cup whole wheat flour
½ cup all-purpose flour
¼ cup sugar
½ teaspoon salt
4 tablespoons cold unsalted butter, cut into 1 tablespoon pieces
1 large egg
1 teaspoon vanilla extract
Filling
3 cups strawberries, hulled and diced
3 cups rhubarb, diced
½ orange, juiced
¼ cup sugar
¼ cup cornstarch
1 teaspoon vanilla extract
Instructions
Spray a 9x13 glass casserole with non-stick spray. Combine almond flour, whole-wheat flour, all-purpose flour, sugar, and salt in a food processor. Add butter, egg, and vanilla and pulse until the mixture is a little clumpy. You may have to scrape down the sides of the bowl. Reserve ½ cup of the mixture for the top of the dessert. Press the rest into a 9x13 glass casserole.
Heat the oven to 400 F. To make the filling mix 2 cups strawberries, 2 cups rhubarb, orange juice, sugar, and cornstarch in a medium sauce pan. Bring to a simmer over medium heat stirring constantly until mixture is very thick (about 3 minutes). Mix in 1 cup of strawberries and 1 cup of rhubarb. Spread mixture on top of crust and add the reserved crust to the top by sprinkling it over.
Bake the bars for 15 minutes and reduce the oven temperature to 350 F. Bake for 25 minutes more until the top is lightly browned. Let cool for 1 ½ hours before slicing into bars.
Nutrition Facts
One bar is 138 calories, 5.7 g fat, 1.9 g saturated fat, 19.7 g carbohydrates, 7.7 g sugar, 3 g protein, 2 g fiber, 89 mg sodium, 5 SmartPts
Points values are calculated by Snack Girl and are provided for information only. See all Snack Girl Recipes