Low Sugar Rhubarb Bars
This is one of those desserts that people will talk about for years to come. You don't have to tell them that these rhubarb bars are low in sugar.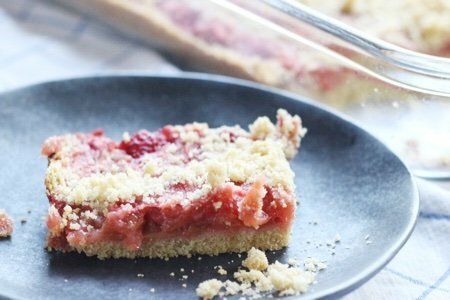 The key to using less sugar in a dessert is to pump up the flavor with a tasty fruit or vegetable – like strawberries and rhubarb. These taste sweeter than they are and are definitely a treat.
I cut the sugar in the crust and the topping and it makes the whole dessert more sophisticated. Instead of tasting SWEET SWEET SWEET, you taste tart, butter, and fruit. I love this bar with coffee.
If you aren't eating rhubarb right now, I would encourage you to go get some. I can usually find it in the produce section in a basket of some kind.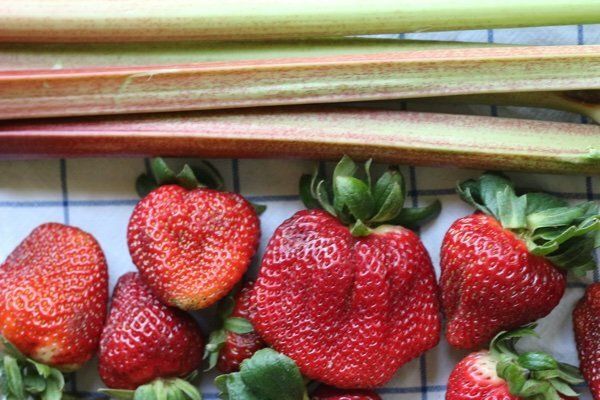 This recipe utilizes almond flour because it has great texture and flavor. The crust here is so easy to make in a food processor that it is almost as fast as a packaged crust (which I would not recommend).
You whir the ingredients in the food processor and then press them into the bottom of a 9x13 glass baking dish.
I used my food processor to dice the strawberries and rhubarb as well.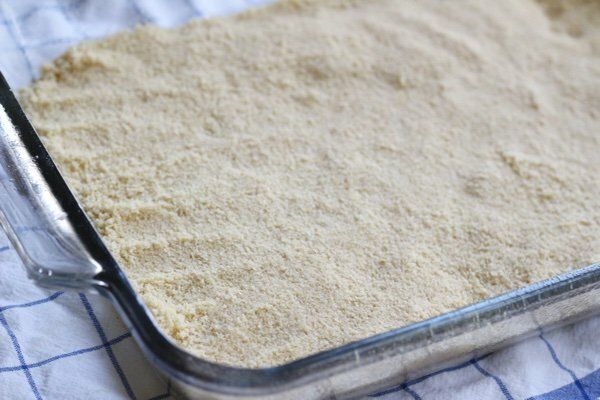 This recipe takes more steps than I usually advocate for, but these taste uniquely remarkable. There is a depth of flavor when you use whole foods (almonds, rhubarb, strawberry) that you can't get in a fluffier dessert.
Be sure to let these cool or you will have a hot mess (literally). After 1 ½ hours cut them into squares and put them in at tightly sealed container. Mine tasted fresh after 4 days in the refrigerator.
Because these are a bit hefty, it is difficult to keep eating them in one sitting. I love their dense texture and crunch on the top.
Bring these to a bakesale and they will be the first to go. I promise!
How do you serve rhubarb?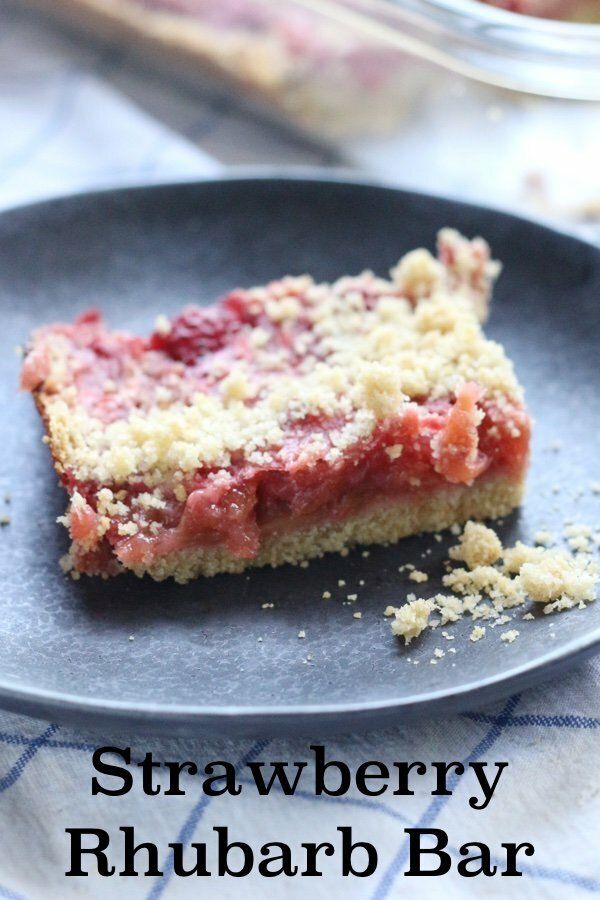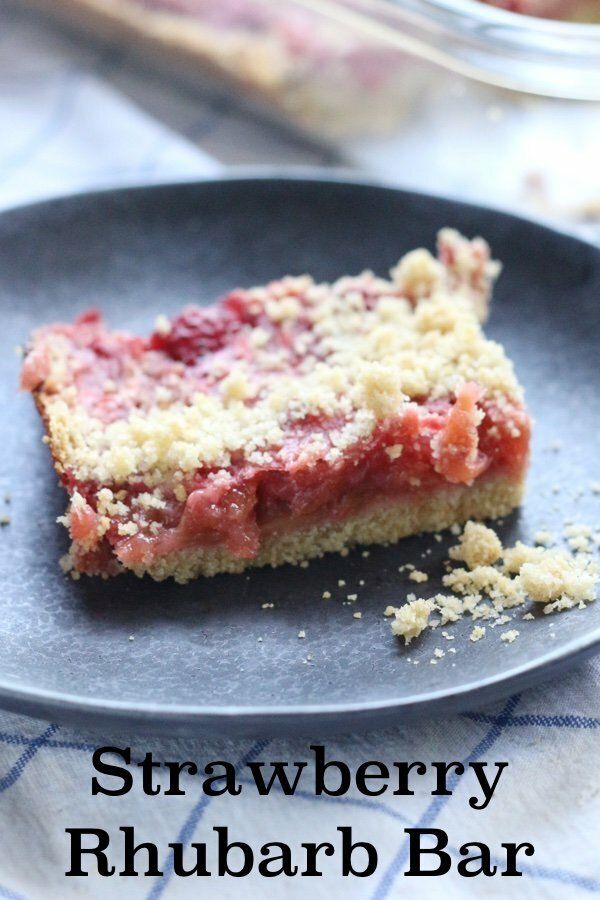 Low Sugar Rhubarb Bars

Makes 18 bars
Crust
Ingredients
1 cup almond flour or almond meal
1 cup whole wheat flour
½ cup all-purpose flour
¼ cup sugar
½ teaspoon salt
4 tablespoons cold unsalted butter, cut into 1 tablespoon pieces
1 large egg
1 teaspoon vanilla extract
Filling
3 cups strawberries, hulled and diced
3 cups rhubarb, diced
½ orange, juiced
¼ cup sugar
¼ cup cornstarch
1 teaspoon vanilla extract
Instructions
Spray a 9x13 glass casserole with non-stick spray. Combine almond flour, whole-wheat flour, all-purpose flour, sugar, and salt in a food processor. Add butter, egg, and vanilla and pulse until the mixture is a little clumpy. You may have to scrape down the sides of the bowl. Reserve ½ cup of the mixture for the top of the dessert. Press the rest into a 9x13 glass casserole.
Heat the oven to 400 F. To make the filling mix 2 cups strawberries, 2 cups rhubarb, orange juice, sugar, and cornstarch in a medium sauce pan. Bring to a simmer over medium heat stirring constantly until mixture is very thick (about 3 minutes). Mix in 1 cup of strawberries and 1 cup of rhubarb. Spread mixture on top of crust and add the reserved crust to the top by sprinkling it over.
Bake the bars for 15 minutes and reduce the oven temperature to 350 F. Bake for 25 minutes more until the top is lightly browned. Let cool for 1 ½ hours before slicing into bars.
Nutrition Facts
One bar is 138 calories, 5.7 g fat, 1.9 g saturated fat, 19.7 g carbohydrates, 7.7 g sugar, 3 g protein, 2 g fiber, 89 mg sodium, 5 SmartPts
Points values are calculated by Snack Girl and are provided for information only. See all Snack Girl Recipes
Other posts you might like:
---

It is there waiting for you in the produce section - rhubarb!
---

Last year, Snack Girl featured one of her FAVORITE Spring vegetables and no one read my post. No, I won't give up....
---
---
Get Free Email Updates! Yes please!
---