The Scary Truth of Lunchables
Snack Girl does not enjoy flaming food products. I would much rather find food that is good and champion it.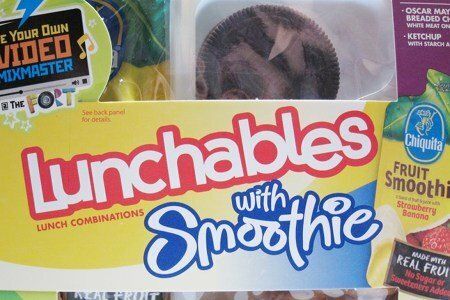 But, I looked at my review of Lunchables and realized that it was outdated. I needed to take a fresh look at Oscar Mayer's products to give them a chance.
The truth is that they have gotten worse than when I checked them out two years ago. How is that possible?
Well take a look at this: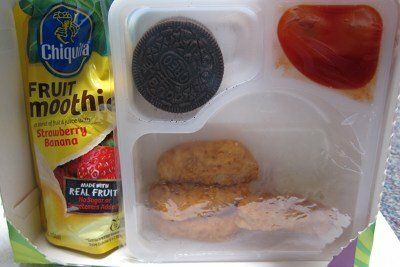 The Lunchable I reviewed had peanut butter, jam, whole wheat bread, and a cup of fruit. Okay, now there are Oreos, weird chicken things, ketchup, and a fruit smoothie. Does this look like food to you?
It cost me $3.75 versus the $2.50 I paid in 2011 and there is a blatant lie on the packaging that I would challenge if I was a lawyer.
The smoothie wrapper says that it has "no sugar or sweeteners added", but the ingredients list includes "apple juice concentrate" and "orange juice concentrate". What do you think happens when you concentrate apple juice (remove the water)? It turns into apple flavored sugar syrup!
I don't see how "apple juice concentrate" isn't a sweetener.
I am forced to repeat my list of "Five Reasons To Avoid A Lunchable:
Sugar: The sugar content, 35 grams, is almost the same as a 12 ounce can of Coke.
Cost: These cost $3.75. I know I can make a lunch for less than that.
Packaging: There is way too much of it and it is not reusable.
590 grams of Sodium: Twenty-five percent of your daily amount in your kid's lunch.
Artificial flavors, MSG, high fructose corn, syrup, preservatives... We can feed our children better than this!
The other lunchables in the case had Capri Sun juices and candy included (like mini chocolate bars). Why would you buy this to nourish your child or yourself?
Who is buying these? At a price tag of $3.75 it costs more than my child's school lunch ($2.75) and looks much worse than the school food (and that is saying something). I can't imagine that people who are struggling to make ends meet are eating them. My guess is adults and people with disposable income. Anyone else want to hazard a guess?
Please share your thoughts on Lunchables.
---
Other posts you might like:
---

Snack Girl has read only a few books in her life that have made a lasting impact on what she eats....
---

Snack Girl gets asked about food like "veggie chips" a lot. And, I never want to answer the e-mails....
---