Holiday Celebrations With What You Already Have
There will be no BMW with a large red bow in my driveway this Christmas (or any Christmas for that matter).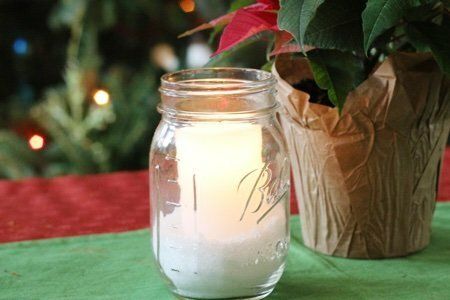 Am I okay with that? Absolutely! I mention it because I never think about the lack of luxury in my life unless it is this time of year. Everyone looks so happy on TV with all the presents piled up under the tree and it is hard not to equate STUFF with happiness.
I don't want any gifts this year. In fact, I thought about wrapping up my 10 year old Kitchen Aid mixer and putting it under the tree because it is awesome.
The above votive symbolizes the kind of thing that you can do without spending any money. I saw this on Pinterest and I was thrilled to discover that I didn't have to buy anything to make it. It also took me about 2 minutes to "make".
This is a Mason jar, a column candle (that I happen to have because someone at my office put a "free" sign on candles and I took them home), and Epsom salts. Do you see how the salts make snow?
I thought this was super cute and it stopped me from purchasing a new holiday decoration. I did buy the Pointsetta plant for $3 at Trader Joe's (TJ's has a great selection of inexpensive holiday stuff).
Be creative this season and shop in your house for creative decorations and gifts. You won't believe what you will find!
Do you "shop" in your house? What kind of things have you discovered?
---
Other posts you might like:
---

This is my photo of Santa at the end of the Macy's Thanksgiving Day parade. What is he so happy about?
---

Here is my "Holiday Card" for all my loyal readers and fans! Thanks for coming here and being part of the Snack Girl community....
---