McDonald's Chocolate Strawberry Frappe: Only 22 grams of Fat and 79 Grams of Sugar
Snack Girl knows that readers get bored with her obsession with flaming McDonald's.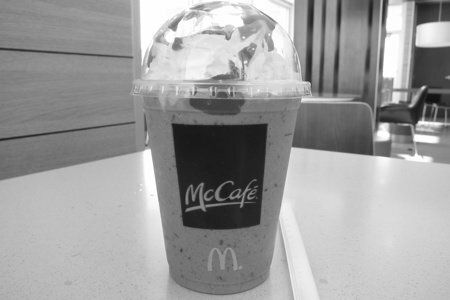 You have to remember that there are people who read this site who visit McDonald's because it is on their way to work, or they didn't have time to make dinner, they forgot their lunch, etc.
McDonald's is here to stay and I, Snack Girl, am here to critique it.
I saw this "Chocolate Covered Strawberry Frappe" and I decided to give it a go for a mere $1. Here are the nutrition facts for the SMALL:
570 calories, 22 g fat, 14 g saturated fat, 88 g carbohydrates, 79 g sugar, 8 g protein, 2 g fiber, 130 mg sodium, 16 Points+
If you are a Weight Watchers member, you know how out of control 16 PointsPlus is. Yikes!
How did it taste? One word: yucky. The strawberry flavor was too sweet and tasted fake because it probably is fake. How do you charge $1 for a drink like this?
We all want to have an indulgence every once in a while. I get that. Instead of McD's fake strawberry el cheapo shake, buy some fresh strawberries and dip them in chocolate. You can eat 16 strawberries with chocolate for the same amount of calories.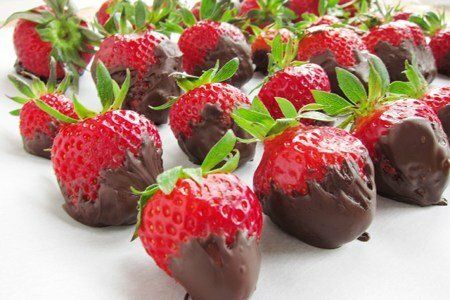 Don't they look so much yummier? There is no comparison, in my mind, between something as lovely as a fresh strawberry dipped in chocolate versus the McDonald's Frappe.
Yes, it will cost you more money. Yes, it will take you more time. But, you are worth it!!
Indulge wisely.
How do you deal with the McDonald's cheap frappes?
---
Other posts you might like:
---

Anyone else have $2 per pound fresh strawberries greeting them at the supermarket. Hurray!....
---

McDonald's oatmeal has been around since 2011 and it has barely changed since its debut....
---