McDonald's Fries and Portion Size: What Size Is Your Treat?
At a recent trip to McDonald's, I found the cutest thing. Check out that little fries container above on the right- adorable and reasonable.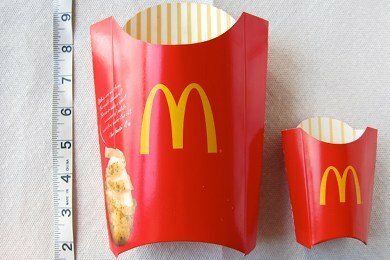 For those who are wondering that tape measure is in INCHES - sorry international peeps - my readership is 90% in the U.S. and yes, we are wondering why we aren't on the metric system.
The wee little box is for the fries that they put in the "Happy Meal" with the apple slices. They have done away with the sugar dipping sauce for the apple slices and now you get fries AND apples.
The cute container of fries has:
100 calories, 5 g fat, 13 g carbohydrates, 1 g protein, 1 g fiber, 70 mg sodium, 3 Points+
You know what? I don't have a problem with this serving or having this as a treat. The sad thing is that McDonald's won't sell you this size without buying a Happy Meal!
Alas, the small fries is 230 calories and that large fries up there:
500 calories, 25 g fat, 63 g carbohydrates, 6 g protein, 6 g fiber, 350 mg sodium, 13 Points+
Ahem...yes, you could feed a small country with the LARGE fry. Anyone else remember when you could "Super Size" the large fries? Yikes!
If you bought the large fries and shared them between 4 people, you would be doing great! But, who does that?
Here is another example of a serving size that is out of control: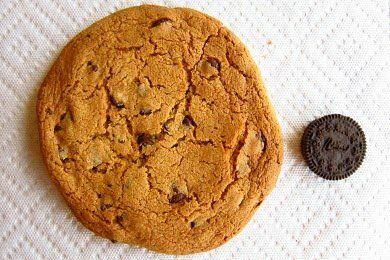 Why do we need a cookie that large with our coffee? See my post on this cookie here: Check Out This Cookie (Scary).
It is ridiculously difficult to go out and buy a reasonable portion size. Candy has a KING size for almost the same price as the small size, chips are 99 cents a bag for 500 calories, and soft drinks are always over 20 ounces.
I think treats are great and an important part of life - but is almost impossible to have a junk food treat without derailing your healthy eating plans.
Most of the food I am talking about is snack food that we buy on the run. We are all unconsciously inhaling way too many calories of garbage and not enough calories of the good stuff.
What to do?
Toss out half the fries or share them with a friend.
Pack your snack to avoid having to buy one.
Make sure you aren't famished at those "weak" times of day.
And realize that the FORCE is not with you - you have to actively choose NOT to eat most of what is offered to you when you are sprinting from place to place.
---
Other posts you might like:
---

Most of us are struggling with the same problems with our waistline. We love food and we eat too much of it...
---

Take a good hard look at the plate of food above. What do you see?....
---