McDonald's Grand Mac: Beware of this Scary Burger
I believe I was watching the Super Bowl when I saw an advertisement for McDonald's Grand Mac.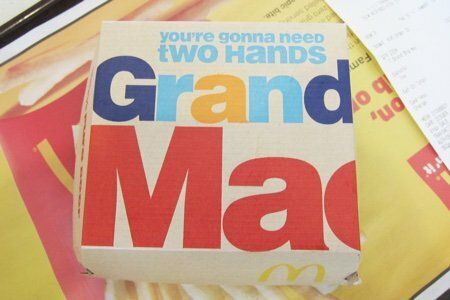 McDonald's has been on the right track in my opinion. They started putting kale in their salads, serve Mandarin oranges in their Happy Meals, and you can get the Egg McMuffin all day (one of their best offerings if you leave off the cheese and ham).
I have hope that since they feed so many people every day, they would continue to move toward healthier food. My thinking is that more people are becoming aware of how diet affects their overall health.
The Grand Mac is a move in the wrong direction. I thought that after the "Super Size Me" documentary that they would get away from making things bigger.
For $6 this is what you get: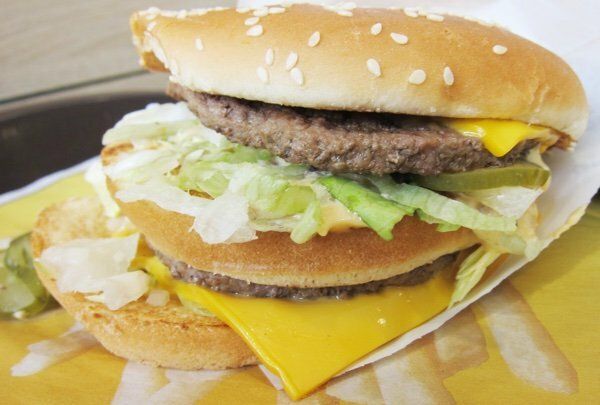 This is what happens when you make the BIG Mac (an already large sandwich) bigger. It can't stand up it is so big and you won't be able to stand up either after you eat it!
Here are the nutritional facts for one Grand Mac:
860 calories, 52 g fat, 18 g saturated fat, 62 g carbohydrates, 13 g sugar, 41 g protein, 5 g fiber, 1470 mg sodium, 29 SmartPts
Fifty two grams of fat in one burger! You can't make this stuff up.
What really blew my mind wasn't the nutritional facts – it was the look of it and the taste.
Does this look like food to you?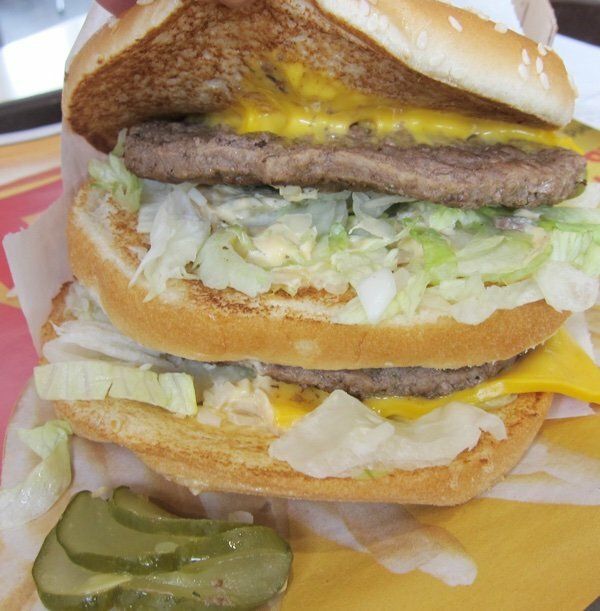 I went ahead and ate some of it because I thought it would taste good. I mean how can you go wrong with 52 grams of fat?
But, it tasted like Styrofoam soaked in grease. The taste of chemicals was overwhelming and all I could taste was this bitter, strange flavor that stayed in my mouth WAY after I tried it.
It tasted absolutely terrible. I took a look at the ingredients and found that there were many chemicals used to make the thing.
Check out the Big Mac Sauce Ingredients:

Soybean Oil, Pickle Relish (Diced Pickles, High Fructose Corn Syrup, Sugar, Vinegar, Corn Syrup, Salt, Calcium Chloride, Xanthan Gum, Potassium Sorbate [Preservative], Spice Extractives, Polysorbate 80), Distilled Vinegar, Water, Egg Yolks, Onion Powder, Spices, Salt, Propylene Glycol Alginate, Sodium Benzoate (Preservative), Mustard Bran, Sugar, Garlic Powder, Vegetable Protein (Hydrolyzed Corn, Soy and Wheat), Caramel Color, Extractives of Paprika, Soy Lecithin, Turmeric (Color), Calcium Disodium EDTA (Protect Flavor).
Wow! This list is crazy. I knew the stuff was bad but I had no idea how many things like "Propylene Glycol Alginate" was in the sauce. It tastes like this list – full of chemicals.
Whatever you do, do not encourage McDonald's by buying this burger.
I asked the McDonald's staff if anyone orders it (or if they had tried it). Not one of the workers at my closest McDonald's had tried it. One worker said he would eat it if he had time to run a marathon after he consumed it.
That pretty much sums it up.
---
Other posts you might like:
---

I received an e-mail from a reader who was stuck going to McDonald's because her co-workers wanted to stop there after an offsite meeting....
---

At a recent trip to McDonald's, I found the cutest thing. Check out that little fries container above - adorable and reasonable....
---