Why We Need To Talk About Fast Food
Snack Girl is obsessed with McDonald's. I just can't stop thinking about this corporation or fast food. Why?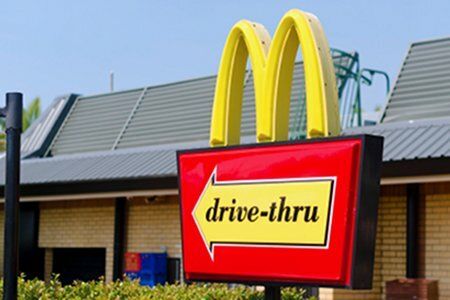 At least one quarter of American adults eat fast food every day. One out of every eight adults has worked at a fast food restaurant at one time in their lives.
On Sunday, I found myself in a lecture hall with none other than Cynthia Goody, PhD, MBA, RD, LD, Senior Director of Nutrition for McDonald's. I was attending the Food & Nutrition Conference & Expo in Philadelphia to learn about the latest in nutrition research.
Cynthia informed the audience that 25 million people each day eat at McDonald's. Clearly my obsession is warranted. Every 14 days, McDonald's could have fed EVERYONE in the United States one meal. Wow.
The title of her presentation was "How McDonald's Is Improving Nutrition" and I must say I was excited. Here we have a company that could change what Americans eat in a positive way.
She talked about the oatmeal and the fact that they had added blueberries to it in the summer. Seems that McDonald's didn't want to add them all year because then the blueberries wouldn't be from a local source. By local, McDonald's means they source the blueberries from the United States and not from South America. I don't think Cynthia has been reading up on the "Farm to Fork" movement.
Of course, I was disappointed by the initiatives she described because I kept hoping she would mention that McDonald's was going to serve more vegetables. When it came to the "Question and Answer" section of the talk, I found myself looking at the microphone and wondering if anyone was going to ask a question.
There wasn't anyone lined up so I (without thinking) decided to jump up and challenge Cynthia.
I asked, "Has McDonald's ever thought about putting kale on the menu?"
At that point, I thought she was going to call some uniformed people to put me in a rubber room. She informed me that she loved kale chips and they had checked into jicama and snow peas. She answered me with a big smile on her face.
I felt like a complete idiot. What was I doing trying to convince McDonald's to serve kale? Am I truly out of my mind?
But then something cool happened. This tweet was sent out during the session:
@dgrreen: @Snack_Girl_ wants @mcdonalds to sell kale. A Big Mac with a side of leafy green chips? I like it. #FNCE @eatrightFNCE
@dgrreen was in the room and actually liked my question! Hey, he even knew who I was and was following my Twitter feed.
Then, I had this crazy idea. If enough of us Tweeted, Facebooked, Suggested, Complained, and just COMMENTED - maybe we would see a kale smoothie someday at McDonald's.
or kale chips or a massaged kale Caesar salad (doesn't that sound yummy?).
Then, all the kale growers in the U.S.A. would have huge contracts supplying McDonald's with tons of kale. Hurray!
Okay, I know I'm dreaming, but you have to start somewhere, right? For now, you can go to McD's for your Big Mac and eat it at home with your side of kale chips.
What do you think of the state of fast food in this country? Do you think it could change?
Here is my protest tweet:
@McDonalds We deserve KALE today. Please serve more vegetables.
---
Other posts you might like:
---

Kale is getting a lot of press and finding its way on all the top blogs. I had to ask this kale to stop on the red carpet to photograph it....
---

Snack Girl has had MANY readers tell her to try "green" smoothies. Well, before last Tuesday, I had one word for them - YUCK!...
---