The Best Way To Order McDonald's Oatmeal: Saves You 29 grams of Sugar
Do you know you can order oatmeal 24 hours per day at McDonald's? Take THAT Big Mac!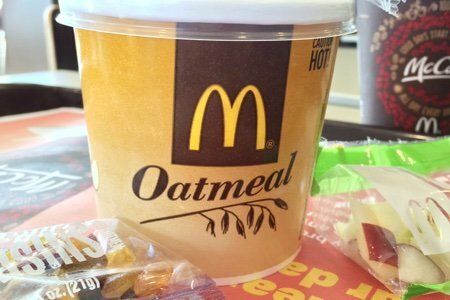 McDonald's fruit and maple oatmeal has been an option for years now and I still can't understand why they call it "maple" since it is sweetened with brown sugar. What is UP with that?
At any rate, you shouldn't care because you will follow the below advice.
Order the "without brown sugar" option. You save yourself from 14 grams of sugar (almost 3 teaspoons) and 30 calories of unnecessary sweetness. Trust me – you don't need it.
Ask for the apples and cranberry raisin blend on the side. They will put it in the oatmeal if you don't ask – and then you can't add them "as needed" which is probably going to save you. I don't use the cranberry raisin mix at all because I don't think it needs it.
Get the cream added. It adds a little bit of fat which will help fill you up and it tastes okay.
My version is:
190 calories, 4.0 g fat, 1.5 g saturated fat, 33 g carbohydrates, 3.0 g sugar, 5.0 g protein, 4.0 g fiber, 110 mg sodium, 6 SmartPts
McDonald's version (everything added including the brown sugar):
290 calories, 4 g fat, 1.5 g saturated fat, 58.0 g carbohydrates, 32 g sugar, 5.0 g protein, 5.0 g fiber, 160 mg sodium, 13 SmartPts
It is a bit shocking how many grams of sugar the cranberry-raisin blend adds to the oatmeal.
I wish McDonald's would add a package of walnuts or almonds to the side to make my version more nutritious with more protein. I add peanut butter to my oatmeal at home.
Have you tried McDonald's Oatmeal? What do you think?
---
Other posts you might like:
---

McDonald's oatmeal has been around since 2011 and it has barely changed since its debut....
---