A Fresh Fruit You Should Try
The above bowl is filled with a fresh fruit that looks like a large raisin.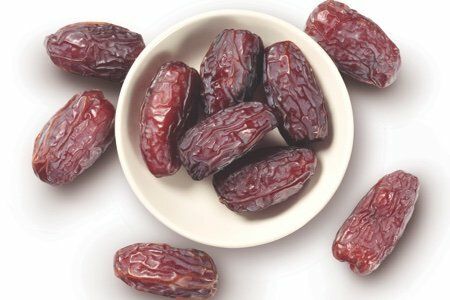 Do you know what it is?
Well, until I visited Natural Delights' farms I didn't know it was a fresh fruit. This is a bowl of Medjool dates and they are harvested looking exactly like the above photo.
I had always thought that dates were a dried "something" like a raisin (dried grape) or a prune (dried plum). But dates ripen into this dried-looking fruit that is stable at room temperature for long amounts of time. Basically, it is fresh even though it looks dried.
Medjool dates are a great replacement for junk food like candy because they contain 16 essential vitamins and minerals – and they are a sweet treat!
For one Medjool date:
66 calories, 0 g fat, 0. g saturated fat, 18.0 g carbohydrates, 16 g sugar, 0 g protein, 2.0 g fiber, 0 mg sodium, 0 Points+
They are wonderful with coffee or tea and make an excellent portion-controlled dessert.
I learned a lot about Medjool dates when I visited Arizona but the most fun thing was actually harvesting some dates.
Here is a photo of date palms: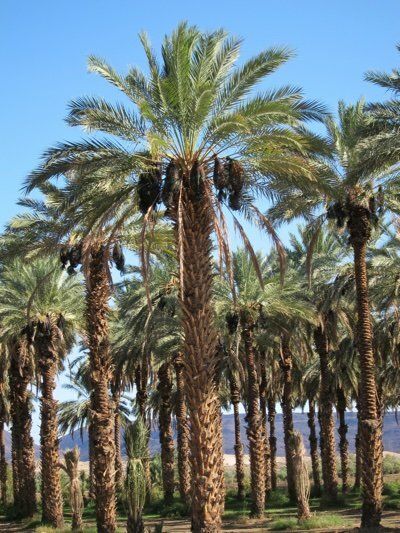 The crew there put me and a group of healthy bloggers up into a shorter date palm to actually harvest the fruit. These larger trees have black bags over the fruit - see them below the leaves? I was lifted off the ground in a picker and told to harvest.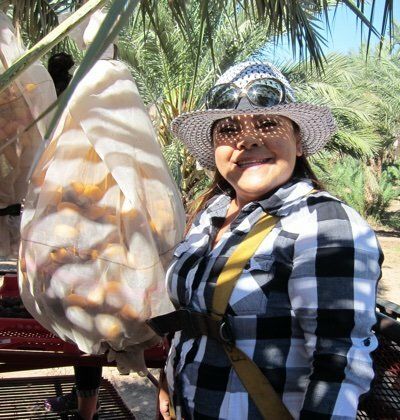 Claudia showed me how to open the bag that surrounds the fruit (see the white bag?). All you do is open it over a tray and out fall the dates!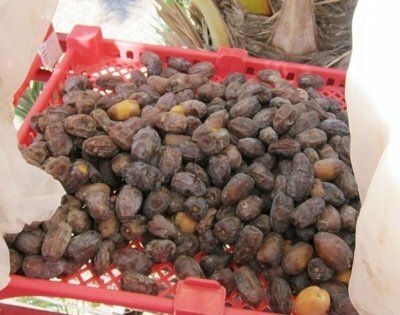 The best part was that you could eat them right away. My fellow blogger ate about 8 before she decided she should slow down. The dates were a little dusty but they are farmed without pesticides so I had a few myself (do not remember how many).
I realize most of you aren't getting out to a date farm any time soon but these dates are in your supermarket in the fresh produce section.
Natural Delights is in stores nationwide (even in Walmart) and has a coupon for two dollars off – $2 off Medjool Dates.
Do you eat dates? Please share your favorite pairings and recipes.
Natural Delights sponsored my trip to their farms in Yuma, Arizona. No other compensation was provided.