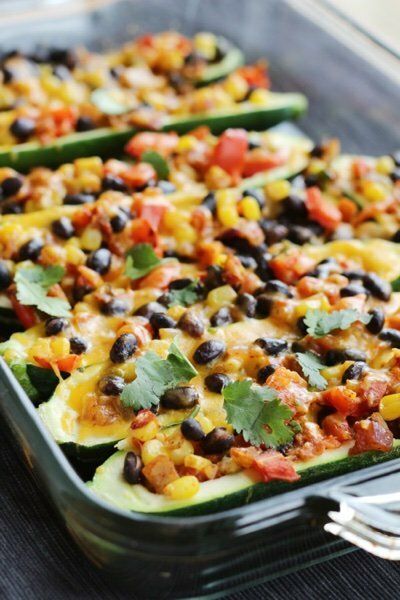 Mexican Zucchini Boat Recipe
Makes 8 servings
Prep time: 20 min
Cook time: 20 min

Ingredients
4 large zucchini
1 tablespoon olive oil
1 red bell pepper, cored and chopped
½ red onion, chopped
1 cup frozen corn, thawed
1 jalapeno, seeded and diced
1-15 ounce can black beans, drained and rinsed
1 cup fresh salsa
2 teaspoons cumin
1 teaspoon chili powder
2 ounces shredded cheddar cheese
Instructions
Preheat oven to 400 F. Spray a 9x13" casserole with non-stick spray. Slice zucchini in half length-wise and spoon out the center of each zucchini with a teaspoon or melon-baller. Heat olive oil in a large skillet. Add bell pepper and onion and sauté until onion is softened (about 4 minutes). Add corn, jalapeno, beans, salsa, cumin, and chili powder.
Lay zucchini in casserole and fill with bean mixture. Sprinkle each half with cheese and cover the casserole with foil. Bake for 20 minutes. Top with cilantro (optional).
These do not freeze well.
Nutrition Facts
One boat is 123 calories, 4.5 g fat, 1.8 g saturated fat, 11.2 g carbohydrates, 3.1 g sugar, 6.9 g protein, 3.1 g fiber, 303 mg sodium, 3 Green, 2 Blue, 2 Purple WW SmartPts
Points values are calculated by Snack Girl and are provided for information only. See all Snack Girl Recipes