Mexican Zucchini Boats: A Better Burrito
Mexican zucchini boats are for those that love burritos but not burrito tummy. You know what I am talking about!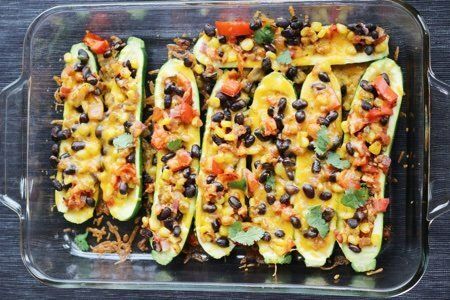 The burrito sits in your belly and you moan, "How did I eat the whole thing?"
These boats are like burritos without the moaning. You use zucchini - which is great replacement for foods like pasta - check out pasta and zucchini recipe and baked zucchini lasagna.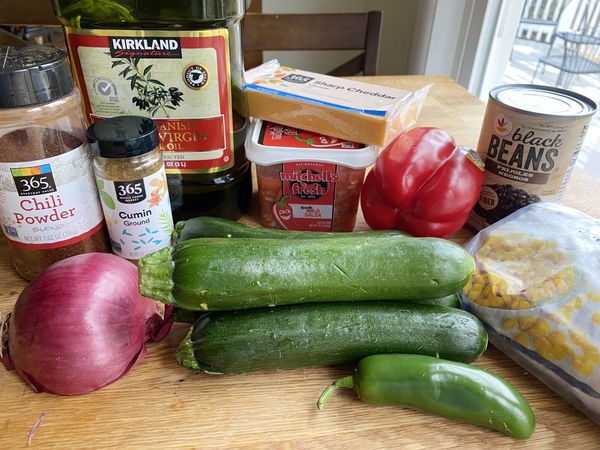 I know it isn't zucchini season but it is still there at the supermarket waiting for you. I eat squash all year round and zucchini is one of my favorites.
I make a whole casserole dish of these and then I can eat two for lunch when I want a burrito. The only problem with storing these is that sometimes someone eats them when I am not looking. You know who you are.
This also makes a nice side vegetable for some other healthy food. I served this with some grilled fish that my children quickly rejected. I have cooked so many meals since March that my children cannot stand - oh well. There are only so many days that you can eat hamburgers and macaroni and cheese.
You core the zucchini with a teaspoon and you don't use the insides. I haven't figured out a good use for the squash part as of yet. Any suggestions?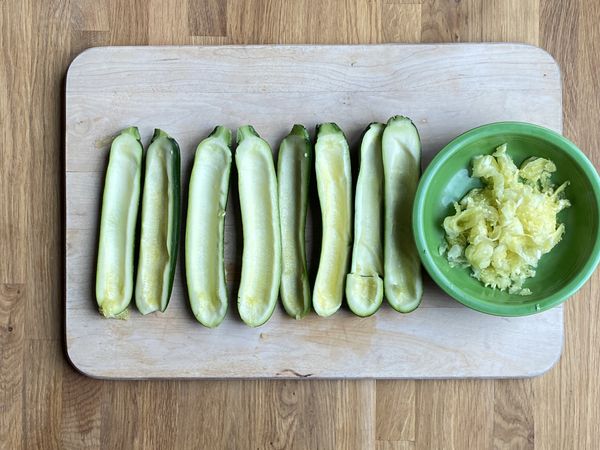 It is important to bake them in a covered dish so the liquid in the zucchini steams the filling.
The filling makes a bunch more than one tray of zucchini and I eat it all week long. You can make two trays of zucchini boats with the filling.
What do you think of using zucchini instead of a tortilla? Would these Mexican Zucchini Boats be a good replacement for a burrito?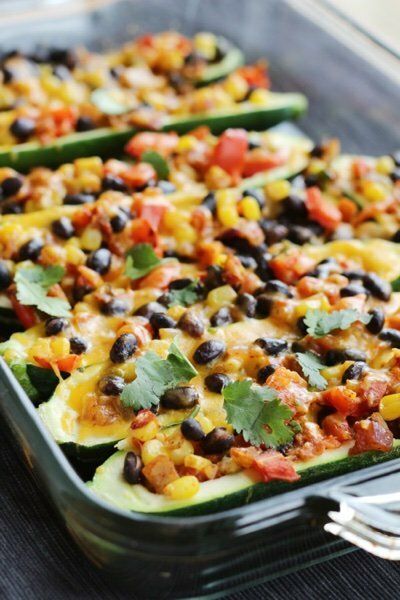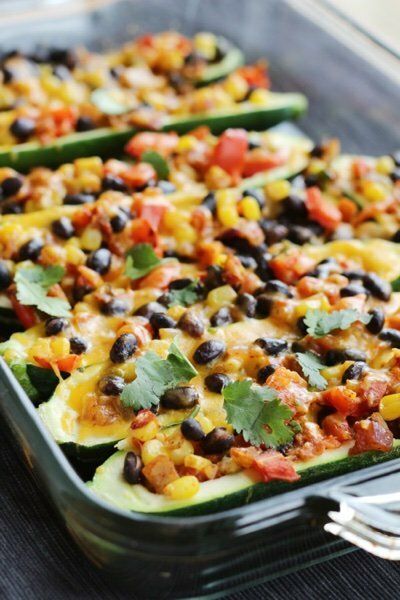 Mexican Zucchini Boat Recipe
Makes 8 servings
Prep time: 20 min
Cook time: 20 min

Ingredients
4 large zucchini
1 tablespoon olive oil
1 red bell pepper, cored and chopped
½ red onion, chopped
1 cup frozen corn, thawed
1 jalapeno, seeded and diced
1-15 ounce can black beans, drained and rinsed
1 cup fresh salsa
2 teaspoons cumin
1 teaspoon chili powder
2 ounces shredded cheddar cheese
Instructions
Preheat oven to 400 F. Spray a 9x13" casserole with non-stick spray. Slice zucchini in half length-wise and spoon out the center of each zucchini with a teaspoon or melon-baller. Heat olive oil in a large skillet. Add bell pepper and onion and sauté until onion is softened (about 4 minutes). Add corn, jalapeno, beans, salsa, cumin, and chili powder.
Lay zucchini in casserole and fill with bean mixture. Sprinkle each half with cheese and cover the casserole with foil. Bake for 20 minutes. Top with cilantro (optional).
These do not freeze well.
Nutrition Facts
One boat is 123 calories, 4.5 g fat, 1.8 g saturated fat, 11.2 g carbohydrates, 3.1 g sugar, 6.9 g protein, 3.1 g fiber, 303 mg sodium, 3 Green, 2 Blue, 2 Purple WW SmartPts
Points values are calculated by Snack Girl and are provided for information only. See all Snack Girl Recipes
Other posts you might like:
---

I seem to be on a zucchini kick and this pasta and zucchini recipe is right in line with my thinking on this versatile squash....
---

Lasagna is one of those foods that top favorite foods lists and so I came up with baked zucchini lasagna to help lighten this classic.....
---
---
Get Free Email Updates! Yes please!
---