The Fastest Holiday Treat In The West
Are you supposed to bring cookies to a party this week? Or how about bring in a treat for your child's holiday concert?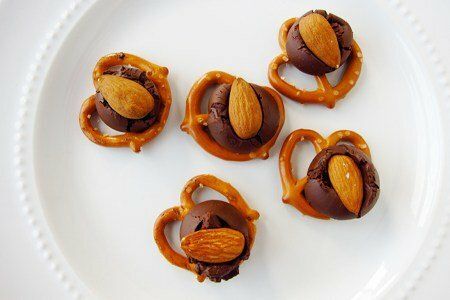 Yeah, I know how it is. Staying up late, setting up your stand mixer, measuring out all that flour, waiting for the cookies to be done before you load yet another tray.
or do I?
This holiday I am thinking pineapple and getting it done without the stress. A dear reader sent me this super fast treat that tastes really good and takes all of 10 minutes to put together.
Voila! You have instant sweet party snacks! And, it even looks like you cooked something a wee bit.
You buy a bag of mini pretzels, Hershey's kisses, and some almonds. No measuring necessary. Simply heat up the kiss on the pretzel and stick on an almond and you are done.
How do they taste? You get a salty, chocolate, crunchy flavor which is quite good. These are much better than those sugar cookies you can slice and bake (oh, yes, I have used those, too).
If you are looking for holiday ideas that feature healthy almonds check out the California Almond board site here: California Almonds. There are some ideas from Joy the Baker that look delicious (much better than my pretzel, kiss, almond bites).
I try to include nuts as much as possible in my cookies to add a layer of nutrition to the butter and sugar bomb.
What is your holiday cookie fix when you don't have a minute to spare?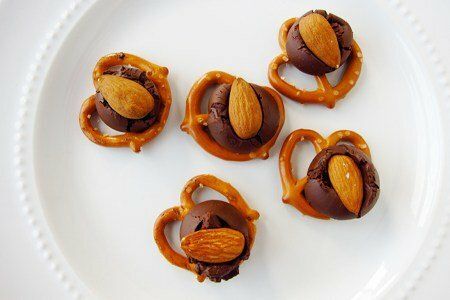 Pretzel, Kiss, Almond Bites

makes 10

Ingredients
10 mini pretzels
10 Hershey's Kisses
10 almonds

Instructions
Preheat oven to 400 F. Lay pretzels on baking sheet, unwrap kisses and place on pretzels. Heat in oven for 5 minutes, take sheet out of oven, and push almonds into the chocolate. Serve when cooled or store for later in a plastic container.
Nutrition Facts
For one pretzel bite: 40 calories, 2.2 g fat, 1.0 g saturated fat, 5.6 g carbohydrates, 2.4 g sugar, 0.5 g protein, 0.6 g fiber, 49 mg sodium, 1 Points+
Points values are calculated by Snack Girl and are provided for information only. See all Snack Girl Recipes
Other posts you might like:
---

This is my photo of Santa at the end of the Macy's Thanksgiving Day parade. What is he so happy about?....
---

Last year, I made adorable santa hats with whipped cream. There were complaints....
---
---
Get Free Email Updates! Yes please!
---