How Do You Like it? Water Enhancer With or Without Chemicals
If you don't think this little bottle in front of you is cute - you need your eyes checked. The concept - add a some flavor to your water is a good one.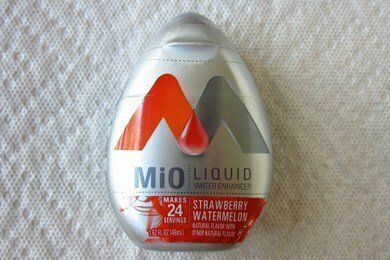 And, Kraft, has come out with a marketing campaign that is making this stuff FLY off the shelves. My research (spoke to one stocking guy at Stop & Sop) says people are buying it like crazy.
Yes, Snack Girl paid her $4 to try this in the hopes that it would be another route to less soda consumption. MiO is zero calories and promises such flavors as strawberry watermelon, berry pomegranate, and sweet tea.
Here are the ingredients: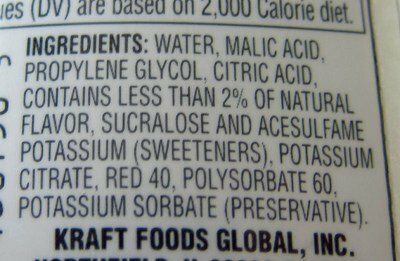 What do you think it tasted like? I was hoping for something that tasted like strawberry watermelon - but it was more like a bitter flavor of KoolAid. Yes, dear readers, it was like drinking CHEMICALS - no surprise here since that it what it is made with!
Instead of going on and on about how we need food companies to serve us less chemicals and more FOOD - I am changing the subject.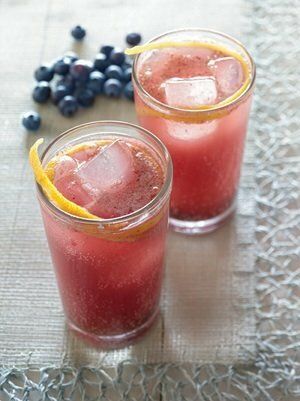 Doesn't that look good? No chemicals here unless you count spices as chemicals. I found this amazing book, "Cool Waters", on Amazon.com (see below). It has 50 recipes on how to infuse water with flavor using fresh fruit, spices, and ZERO sugar.
I know it is hard to believe, but you don't need artificial colors or sweeteners to get some flavor in your water. Sorry, Kraft.
Below is a blueberry lemon flavor (with an added ginger kick). The book also features recipes for strawberry kiwi, watermelon with basil, and pineapple and lime - seriously delicious water.
Take the $4 you would have spent on MiO and buy some fresh blueberries instead. You will love how they taste and they are so much better for you.
---
Blueberry Twist Recipe
recipe and photo reprinted with permission from "Cool Waters" by Brian Preston-Campbell (serves 4)
1/2 cup fresh blueberries
Zest of 1/2 lemon
1 large pinch of ground ginger
1 cup still water
4 cups chilled sparkling water
1. Place the blueberries, lemon zest, ginger, and still water in a blender. Blend on high speed until smooth, about 1 minute. Strain through a fine-mesh sieve into a large pitcher.
2. Add the sparkling water, stir gently, and serve.
For one serving - 10 calories, 0 g fat, 3 g carbohydrates, 0 g protein, 0 g fiber, 0 mg sodium, 0 Points+
---
$13.82 Buy on Amazon.com
As an Amazon Associate, I earn from qualifying purchases.
---
Want to read about snacks?
Turn Strawberry Shortcake Into Strawberry Healthycake
How A Top Chef Got Healthy
Don't Be Fooled By This Popsicle Marketing Trick
Sweet Corn Is A Stellar Snack