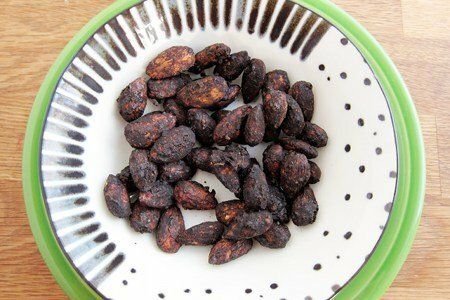 Roasted Mocha Almond Recipe
Makes 2 cups, ¼ cup per serving

Ingredients
2 tablespoons sugar
2 tablespoons cocoa powder
1 tablespoon instant coffee
1 egg white
2 cups almonds

Instructions
Preheat oven to 325 F. Line a rimmed baking sheet with parchment paper. Mix sugar, cocoa powder and coffee in a small bowl. Beat egg white in another bowl with a fork until frothy. Mix the almonds in the egg white and then in the cocoa powder mixture.
Spread in a single layer on the baking sheet and bake for 15 minutes. Take them out of the oven, stir them around, and bake for another 10 minutes.
Wait until they are cool to consume. May be stored for 2 weeks in the refrigerator.
Nutrition Facts
154 calories, 11.9 g fat, 1.0 g saturated fat, 9.1 g carbohydrates, 4.1 g sugar, 5.7 g protein, 3.3 g fiber, 7 mg sodium, 4 Points+
Points values are calculated by Snack Girl and are provided for information only. See all Snack Girl Recipes