Make Your Own Mocha Roasted Almonds
Snack Girl is not trying to sell you rabbit poop, it just looks like it.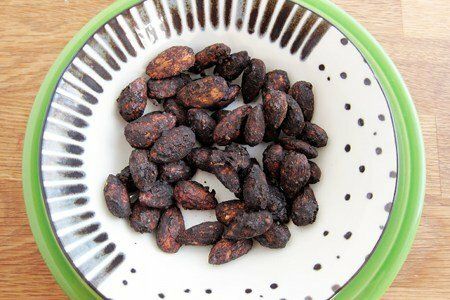 This photo is of my attempt to make my own roasted mocha almonds for a healthy snack. They do not photograph well at all!
I was inspired by complaints about Emerald Cocoa Roast Almonds because they have artificial sweetener as an ingredient. I used sugar, cocoa powder, and instant coffee to make mine.
I love the idea of cocoa powder and almonds as a snack because it is both nutritious and you get chocolate flavor. You don't have to use the coffee if you don't like the taste..
These are crunchy, a little sweet, and great for taking with you for a snack. I do measure mine out so I don't eat too many, but they are very nutritious and make a great replacement for granola bars.
I did use parchment paper for this recipe, and if you don't have any, you should buy yourself some. NOTHING sticks on parchment paper. I love that I can pry anything off of it (not like the pan it sits on which I have had to scrub many times). I have found it an invaluable healthy eating tool because instead of using oil to keep food from sticking, I can just use paper.
Have you tried to make your own cocoa almonds? Please share.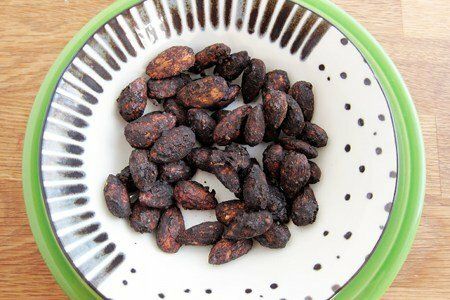 Roasted Mocha Almond Recipe
Makes 2 cups, ¼ cup per serving

Ingredients
2 tablespoons sugar
2 tablespoons cocoa powder
1 tablespoon instant coffee
1 egg white
2 cups almonds

Instructions
Preheat oven to 325 F. Line a rimmed baking sheet with parchment paper. Mix sugar, cocoa powder and coffee in a small bowl. Beat egg white in another bowl with a fork until frothy. Mix the almonds in the egg white and then in the cocoa powder mixture.
Spread in a single layer on the baking sheet and bake for 15 minutes. Take them out of the oven, stir them around, and bake for another 10 minutes.
Wait until they are cool to consume. May be stored for 2 weeks in the refrigerator.
Nutrition Facts
154 calories, 11.9 g fat, 1.0 g saturated fat, 9.1 g carbohydrates, 4.1 g sugar, 5.7 g protein, 3.3 g fiber, 7 mg sodium, 4 Points+
Points values are calculated by Snack Girl and are provided for information only. See all Snack Girl Recipes
Other posts you might like:
---

The simplest snacks are truly the best. Nuts, such as almonds, walnuts, or peanuts are a nutritious and portable snack....
---

One of the biggest hits on Snack Girl has been the No Bake Brownie Balls....
---
---
Get Free Email Updates! Yes please!
---