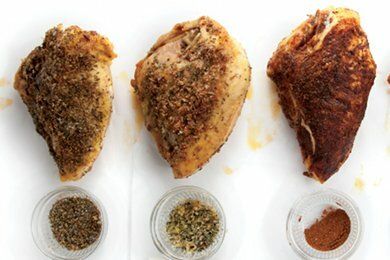 Roast Chicken With Greek Rub
Reprinted with permission from "The Mom 100 Cookbook" by Katie Workman
Greek Rub
(Makes about 1/4 cup; good for 3 1/2 to 4 pounds of chicken parts)
Ingredients
2 tablespoons dried oregano
1 teaspoon dried dill
1 teaspoon finely minced garlic, or 1 teaspoon garlic powder
1 1⁄2 teaspoons kosher or coarse salt
1⁄4 teaspoon freshly ground black pepper
Juice of 1 lemon (optional), strained, for serving
Instructions
Combine the oregano, dill, garlic, salt, and pepper in a small bowl. After the chicken is cooked, sprinkle with lemon juice, if desired.
Roast Chicken
Nonstick cooking spray (optional)
2 tablespoons olive oil, plus more olive oil for oiling the baking sheet (optional)
1 chicken (about 4 pounds), cut into 8 pieces, or about 4 pounds skin-on, bone-in chicken parts
2 teaspoons kosher or coarse salt (optional)
Freshly ground black pepper (optional)
Preheat the oven to 425°F. Place a rack in the lower third of the oven. Spray a large rimmed baking sheet with nonstick cooking spray or lightly oil it with olive oil.
Using your hands, rub the chicken pieces with the olive oil. You can continue with Step 3 or go directly to Step 4.
Rub 1 tablespoon of Greek Rub on each chicken part.
Arrange the chicken pieces on the prepared baking sheet in a single layer skin side up with at least 1⁄2 inch between each piece. Sprinkle the chicken on both sides with the salt and some pepper if you didn't use one of the rubs.
Bake the chicken until fully cooked and the juices run clear when you cut into a piece (see Note), 35 to 50 minutes, depending on the size and thickness of the pieces (dark meat also takes longer). If the skin needs a bit more crisping, place the chicken under the broiler for a few minutes. And you should let the chicken sit for at least 5 minutes before serving so the juices can regroup back into the meat. Serve the chicken hot or warm or cold.
Note: If you want to test the chicken for doneness using an instant-read thermometer, the FDA recommends an internal temperature of 165°F for both chicken breasts and dark meat. Remember, though, that the chicken will continue to cook slightly more after it is removed from the oven, particularly if it sits on the baking sheet.
Nutrition Facts
For one half chicken breast without skin with one teaspoon olive oil = 182 calories, 8 g fat, 0 g carbohydrates, 27 g protein, 0 g fiber, 280 mg sodium, 4 Points+
Points values are calculated by Snack Girl and are provided for information only. See all Snack Girl Recipes