100 Awesome Recipe Solutions For Parents
I just know there are some tired parents out there who are sick of the question, "What's for dinner?".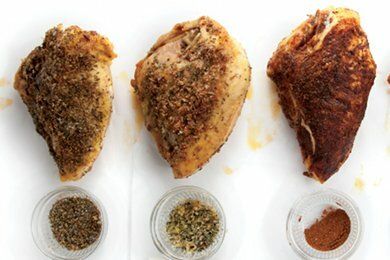 Why don't you just cook your own? I think when my kids are whining and I am super exhausted. Sometimes I even say that out loud!
Since they can't cook their own (yet), I have to come up with something. I prefer to make a meal that both my kids and partner will enjoy.
Katie Workman came up with "The Mom 100 Cookbook" to solve all of our problems. In the book she features 20 dilemmas with 5 solutions each to get to 100 recipes. Some of the dilemmas include:
The kids can't get beyond hamburgers and hotdogs
Enough with the frozen chicken nuggets
Be brave - serve salad
This book has beautiful photographs, well-written recipes, and it's fun to read. My only complaint is that it's a little heavy on the meat, though she does include vegetarian mains in the book.
Here recipes are not focussed on being low in calories - but if you're cooking and not eating takeout - you will be inhaling fewer calories.
The photo above is from her "breast centerfold" and features five "rubs" she has come up with for making roast chicken sparkle. Greek, spiced curry, and Cajun are three of her flavor combinations.
I made Katie's roast chicken recipe with the Greek rub. She was kind enough to share the recipes and photos with me so I could post them. My family went nuts over this chicken.
To reduce the number of calories of this dish, Katie suggested that I remove the skin for my serving AFTER roasting. This way the juices get sealed into the chicken. I rubbed the spice mixture under the skin as well as on top of it.
It was really delicious and I can't wait to try more of the rubs as well as her recipes for One Skillet Beef and Macaroni, Mexican Tortilla Casserole, and Tofu-Veggie Stir-Fry.
photo credit: Todd Coleman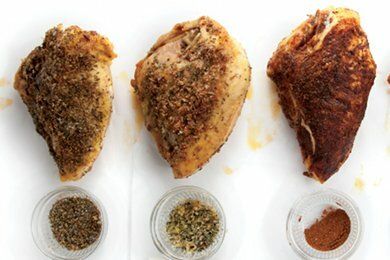 Roast Chicken With Greek Rub
Reprinted with permission from "The Mom 100 Cookbook" by Katie Workman
Greek Rub
(Makes about 1/4 cup; good for 3 1/2 to 4 pounds of chicken parts)
Ingredients
2 tablespoons dried oregano
1 teaspoon dried dill
1 teaspoon finely minced garlic, or 1 teaspoon garlic powder
1 1⁄2 teaspoons kosher or coarse salt
1⁄4 teaspoon freshly ground black pepper
Juice of 1 lemon (optional), strained, for serving
Instructions
Combine the oregano, dill, garlic, salt, and pepper in a small bowl. After the chicken is cooked, sprinkle with lemon juice, if desired.
Roast Chicken
Nonstick cooking spray (optional)
2 tablespoons olive oil, plus more olive oil for oiling the baking sheet (optional)
1 chicken (about 4 pounds), cut into 8 pieces, or about 4 pounds skin-on, bone-in chicken parts
2 teaspoons kosher or coarse salt (optional)
Freshly ground black pepper (optional)
Preheat the oven to 425°F. Place a rack in the lower third of the oven. Spray a large rimmed baking sheet with nonstick cooking spray or lightly oil it with olive oil.
Using your hands, rub the chicken pieces with the olive oil. You can continue with Step 3 or go directly to Step 4.
Rub 1 tablespoon of Greek Rub on each chicken part.
Arrange the chicken pieces on the prepared baking sheet in a single layer skin side up with at least 1⁄2 inch between each piece. Sprinkle the chicken on both sides with the salt and some pepper if you didn't use one of the rubs.
Bake the chicken until fully cooked and the juices run clear when you cut into a piece (see Note), 35 to 50 minutes, depending on the size and thickness of the pieces (dark meat also takes longer). If the skin needs a bit more crisping, place the chicken under the broiler for a few minutes. And you should let the chicken sit for at least 5 minutes before serving so the juices can regroup back into the meat. Serve the chicken hot or warm or cold.
Note: If you want to test the chicken for doneness using an instant-read thermometer, the FDA recommends an internal temperature of 165°F for both chicken breasts and dark meat. Remember, though, that the chicken will continue to cook slightly more after it is removed from the oven, particularly if it sits on the baking sheet.
Nutrition Facts
For one half chicken breast without skin with one teaspoon olive oil = 182 calories, 8 g fat, 0 g carbohydrates, 27 g protein, 0 g fiber, 280 mg sodium, 4 Points+
Points values are calculated by Snack Girl and are provided for information only. See all Snack Girl Recipes
$19.95 $17.44 Buy on Amazon.com
As an Amazon Associate, I earn from qualifying purchases.
---
Other posts you might like:
---

I am betting that you are sitting in an office right now! Yes, I can see you in your cubicle with the florescent bulbs burning. Blub blub goes the water cooler.....
---

Are you financially stretched? Honestly, who isn't feeling the pain of our economic downturn?...
---
---
Get Free Email Updates! Yes please!
---