Avocado Peach Salsa from Mom to Mom Nutrition
One of the perks of my job is to meet a bunch of wonderful registered dietitians from all over the country.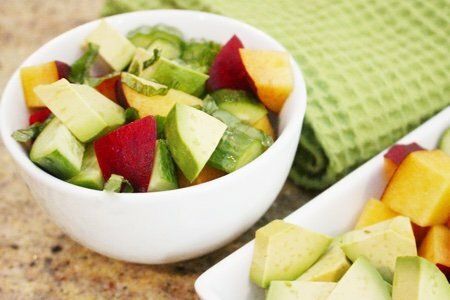 My latest pal, Katie, founded an amazing website called Mom to Mom Nutrition and she does a great job of encouraging parents to cook healthy food. Be sure to check her website out and subscribe to her newsletter to get free recipes.
She was kind enough to write a post for Snack Girl and include a healthy recipe. From Katie:
Summertime means one thing: the FRESHEST produce is available. From farmer's markets to the local grocery store, summer produce is at its peak. In-season produce was the main inspiration for this Avocado Peach Salad, as I'm always reminding myself and my clients to "eat the season."
Plus my toddler loves both avocado and peaches and I thought by adding cucumber he might get hooked on that too. The verdict? I found cucumber chewed up and spit out in his bib. But hey, at least he tried it!
Lets get back to my "eat the seasons" mantra. When you eat a peach in December, it has the same nutritional value as the peach you eat in July. The main difference? COST!
Don't get me wrong, I love that modern agriculture practices give us the opportunity to enjoy peaches out of season. But there's something to be said about enjoying food at the peak of its freshness!
This Avocado Peach Salad is great by itself or as a topper for grilled fish or chicken [just chop the ingredients a little smaller than shown in these pictures]. You could also make this salad heartier by mixing in some kale or arugula for extra greens!
However you decide to eat it, be sure sure you wait to add the avocado just before serving. Otherwise it can do the whole mushy-brown thing. Not that I mind it - my toddler on the other hand… that's a different story.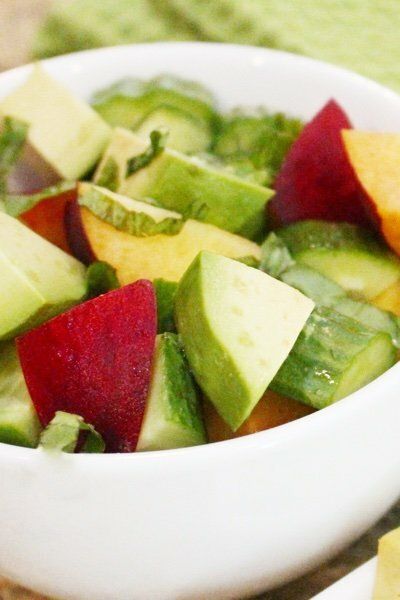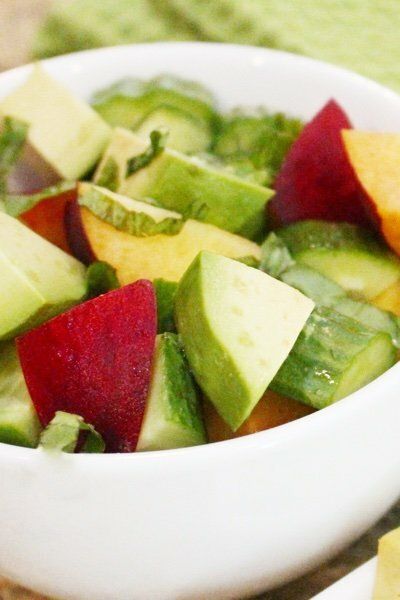 Avocado Peach Salad Recipe
Reprinted with permission from Mom to Mom Nutrition
Yield: 4 servings
Prep Time: 10 minutes
Salad
2 peaches, diced
2 avocados, diced
3 English cucumbers, diced
Dressing
½ cup of olive oil
3 tablespoons of white balsamic vinegar
1 teaspoon honey
½ cup fresh basil leaves, chopped
½ teaspoon of salt
¼ teaspoon black pepper
Directions
1. To make the dressing, whisk together the olive oil, vinegar, honey, basil, salt and pepper in a small bowl. Set aside.
2. To assemble the salad, place peaches, avocado and cucumber in a small bowl; top with the dressing and gently toss to combine.
3. Serve immediately or store in your refrigerator for up to 3 days. Stir well before serving.
Note: If not enjoying immediately, wait to mix-in the avocado just before serving.
Points values are calculated by Snack Girl and are provided for information only. See all Snack Girl Recipes
---
Get Free Email Updates! Yes please!
---