More Delicious Snack Finds
Last week, Snack Girl bumped this post with beef jerky to celebrate being put on a list of GREATEST. I received many e-mails from upset readers.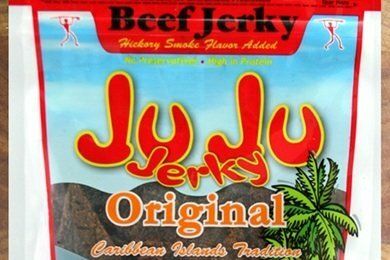 I didn't forget you - beef jerky enthusiasts! And, if you aren't enthusiastic about beef jerky - I don't blame you. The "Slim Jim" in your local 7-Eleven is a poor substitute for beef jerky.
Ju Ju Jerky has no MSG or preservatives, is low sodium, and high protein. It also has a moist texture which makes it much more palatable than the RUBBER of most commercial beef jerkys.
What do I like about it? It is delicious and for one ounce you get:
70 calories, 1 g fat, 3 g carbohydrates, 14 g protein, 1 g fiber, 170 mg sodium, 2 Points+
You can buy a range of Ju Ju Jerky products on their website - Ju Ju Jerky Store and on Amazon.com. They have both beef jerky and turkey jerky and SPICY jerky (which is my favorite).

Are you looking for sparkling without the alcoholic side effects? Well, Knudsen has come out with these adorable cucumber sparkly waters for those of us trying to keep a lid on our holiday champagne consumption.
These little guys are so cute, festive, and refreshing. Snack Girl has a recipe for cucumber/orange water for the summer months. These "sparkling essences" are a lot more dressed up.
The flavors include lemon, mint, blueberry, coconut, lime and cucumber and they are zero calories - no added sugar or artificial sweeteners (or Stevia). They retail for $3.99 for 4 and they can be found here: Knudsen Store Locator or on Amazon.com (below).
---
The Healthy Gourmets are two nutritionists who CARE about snacks. They have written a short book called "Munch, Yum, Grow!" to support parents and childcare workers with innovative snack ideas.
The book includes snack advice, 25 kid-tested snack recipes and has nut-free, gluten-free, and lactose-free options. This is a great guide to have around when lacking in snack inspiration.
You can buy it on Amazon.com and check out their website here: The Healthy Gourmets
These products were received for review consideration. No other compensation was provided.
---
currently unavailable Buy on Amazon.com
As an Amazon Associate, I earn from qualifying purchases.
---
Other posts you might like:
---

Looking for a way to drink hot chocolate without a bunch of calories? The stores are filled with artificially sweetened hot cocoa mix that tastes...well...okay....
---

Looking for a way to have salty potato chip taste and crunch for a mere 16 calories a serving? Well, I have a snack for you!...
---