Why Snack Girl Loves This Salad
I was tempted to entitle this post, "Why Snack Girl Loves This Cupcake", because salad puts people to sleep. zzzzz.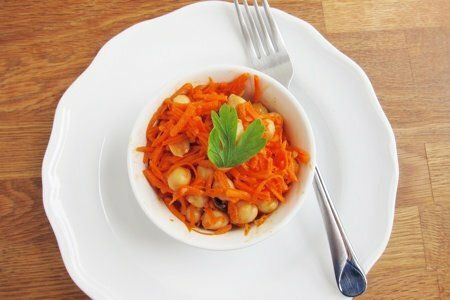 Cupcakes on the other hand drive tons of people to this website. Sometimes, I wish I was a cupcake blogger. Alas, I am stuck with salad.
This salad is a good one to be stuck with. Why?
It is easy and inexpensive.
It gets better in your refrigerator over time (unlike lettuce).
All the ingredients can be stored in your pantry or fridge for a while (also unlike lettuce).
Everybody loves it.
I grate my carrots in the food processor so it takes mere minutes to put together. Then, I put it on a shelf in my refrigerator where I can see it when I open the door. You want the healthy stuff right at eye level and the bacon somewhere in the back.
Do not be afraid of ground cumin. It is the spice that brings the sweet carrots, raisins, and chickpeas together.
Serve this as a side or add peanuts, avocado, grilled meat, or whatever else you have hanging out in your fridge to make a more substantial meal.
What are your favorite salads that keep in your fridge?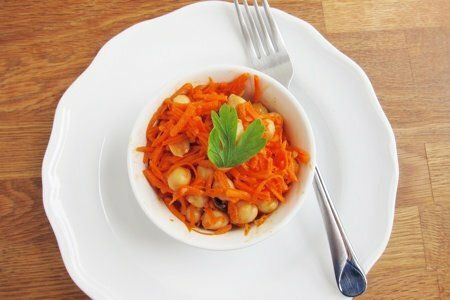 Moroccan Carrot Salad Recipe
Makes 8 - ½ cup servings
Ingredients
1 pound carrots, peeled and grated
1 15-ounce can chickpeas, drained and rinsed (also called garbanzo beans)
¼ cup raisins
½ lemon
1 teaspoon cumin
1 tablespoon olive oil
salt to taste
Instructions
Mix carrots, chickpeas, and raisins in large bowl. Squeeze lemon over salad or juice it and then add juice to salad. Add cumin and olive oil and salt to taste. Keeps in the refrigerator (getting better) for one week.
Nutrition Facts
102 calories, 2.8 g fat, 17.7 g carbohydrates, 7.0 g sugar, 3.6 g protein, 3.0 g fiber, 100 mg sodium, 3 Points+
Points values are calculated by Snack Girl and are provided for information only. See all Snack Girl Recipes
Other posts you might like:
---
Do you want to sneak some veggies in without anyone noticing? Use the sushi method of vegetable hiding....
---

Snack Girl can hear you all. Those aren't fries, those are carrots!...
---
---
Get Free Email Updates! Yes please!
---