Mushroom Lentil Burgers
Mushroom lentil burgers are a very healthy replacement for 8 ounce beef burgers.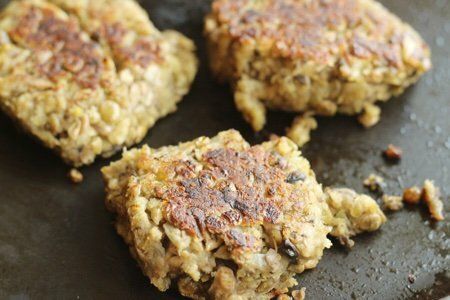 I hope most of you consider a ½ pound burger to be a treat!
My mushroom lentil burgers feature beans which have been a theme of this website for a long time. My latest recipes tuna and bean salad and tomato and bean casserole feature canned beans that are precooked.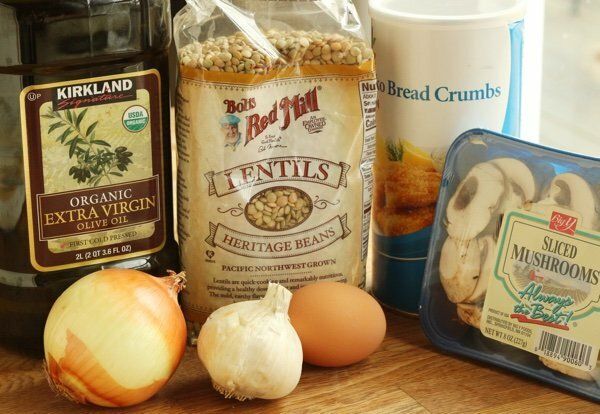 This recipe features lentils which cook really quickly. It only takes 15 minutes of simmering to have perfect lentils. Take that – black beans!
I happen to think lentils are meaty when done right. They are brown (which helps) and are an excellent substitute for ground beef when you are cooking for vegetarians.
I used brown lentils for this recipe but any color or type would work. I think the brown ones look more attractive than the red ones for this particular burger.
This recipe is perfect for your food processor. Since I have been begging you to buy one for the last 9 years, it is time for you to pick one up.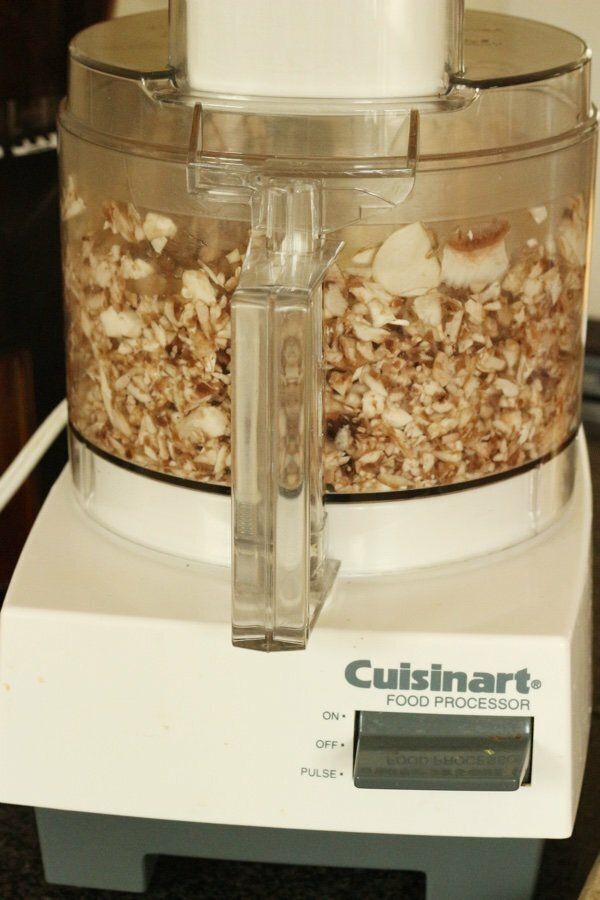 The above is a photo of mine with the mushrooms for the recipe. This recipe is literally a whirl with this machine. I used it for the mushrooms, onions, garlic, and lentils. My Cuisinart is now 20 years old and still going strong. See it below on Amazon.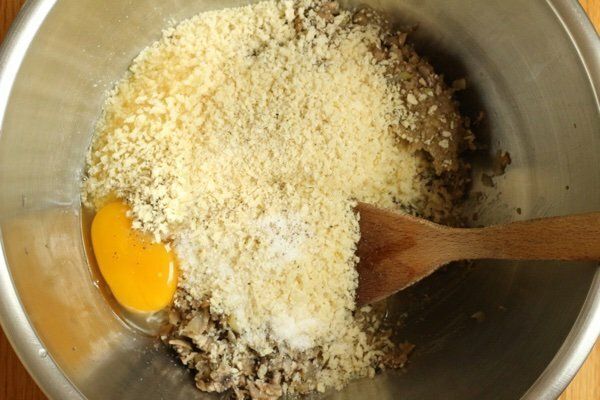 This has a few steps more than I usually like to engage in but my daughter loves these. My mushroom lentil burgers are lower in sodium than many of the premade veggie burgers you can find in the freezer section.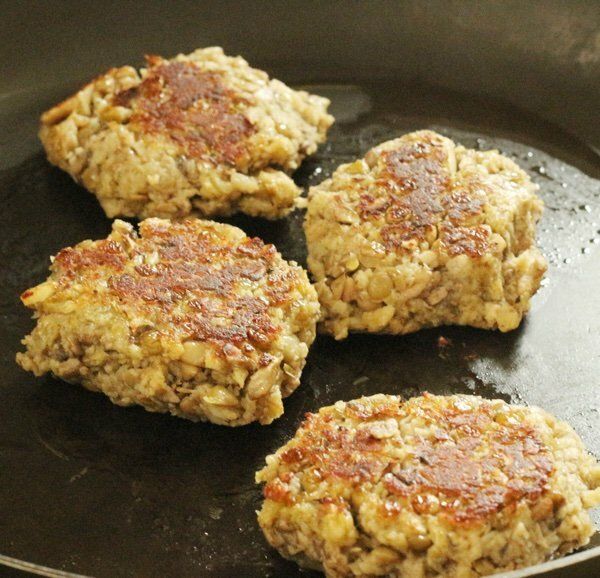 Once you get them made, they cook up fast. They do look kinda like meat though they don't taste like it. I served these on whole wheat buns with lettuce, tomato, and Dijon mustard.
If you want to make a batch to freeze, pan fry them, cool them and then wrap them individually in plastic wrap to eat whenever. They do get soggy so I would pan fry them again after they defrost to get that crunch back.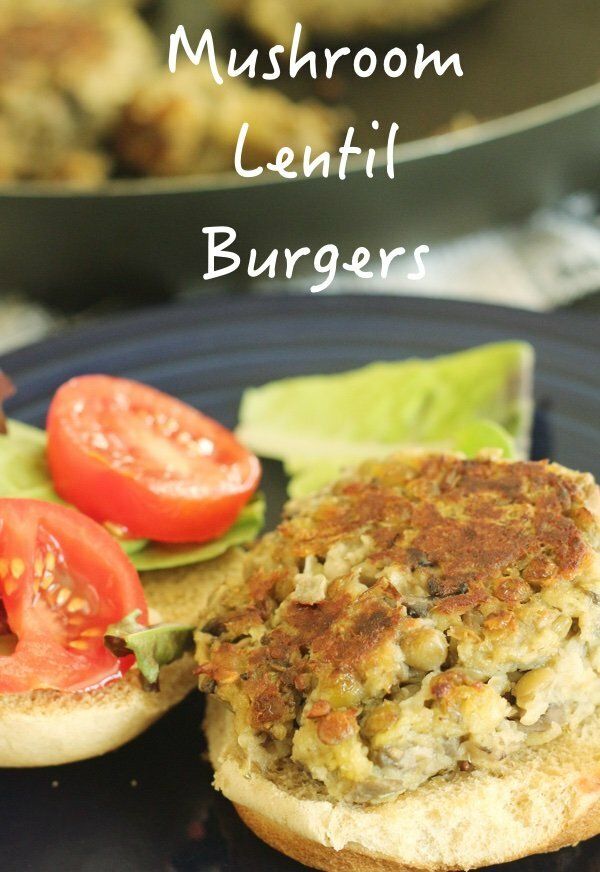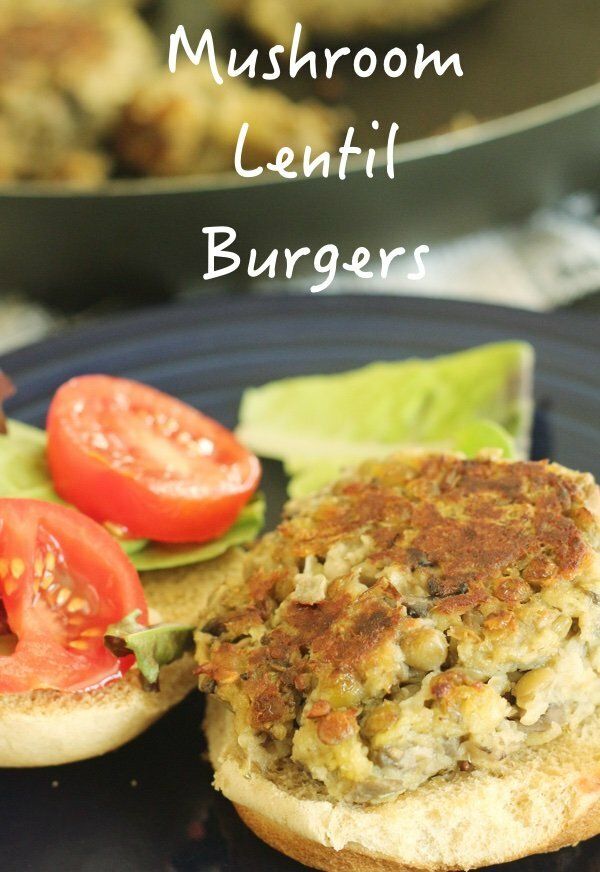 Mushroom Lentil Burgers Recipe
Makes 8 burgers
Ingredients
½ cup lentils
2 tablespoons extra virgin olive oil, divided
8 ounces mushrooms, finely chopped
1 medium onion, diced
1 garlic clove, minced
1 cup bread crumbs
1 large egg
½ teaspoon salt
½ teaspoon ground black pepper
Instructions
Place lentils in a small saucepan with 1 1/2 cups of water. Bring to a boil, cover, and simmer for 15-20 minutes until tender.
While lentils are cooking, add 1 tablespoon olive oil, mushrooms, onion, and garlic to a large skillet and saute until onions are translucent and mushrooms are a light brown (about 7minutes). Place mushroom mixture in a large bowl.
Puree ½ cup of the cooked lentils (you will have one cup total) in a food processor or blender. Add lentil puree and whole lentils to mushrooms along with bread crumbs, egg, salt and pepper. Mix and make into 8 patties. Refrigerate the patties on a plate wrapped in plastic wrap to help them set.
Heat a skillet with 1 tablespoon of olive oil and add the patties. Cook until crispy about 5 minutes per side. After you cook them, these patties freeze well.
Nutrition Facts
One hamburger is 147 calories, 5.1 g fat, 0.9 g saturated fat, 19.4 g carbohydrates, 2.2 g sugar, 6.8 g protein, 4.9 g fiber, 258 mg sodium, 3 Freestyle SmartPts
Points values are calculated by Snack Girl and are provided for information only. See all Snack Girl Recipes
---
$129.95 $99.99 Buy on Amazon.com
As an Amazon Associate, I earn from qualifying purchases.
---
Other posts you might like:
---

Tuna and bean salad is one for your fridge when you are looking to snack. This salad will keep for a week and gets better with time.....
---

Tomato and bean casserole should become an every day dish. First, everyone loves a casserole....
---
---
Get Free Email Updates! Yes please!
---