A Healthy Version of a Meatball Sub: Yes You Can!
I can't turn down a good meatball sub sandwich. Meat, cheese, sauce, and bread – it is almost the polar opposite of the healthy food that I feature here.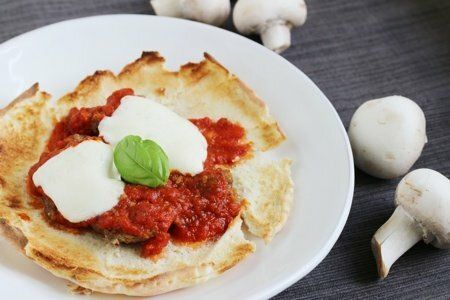 Ohh, but I love it so!
I use mushrooms to make meatballs much lower in calories. Adding mushrooms to beef is a great way to:
Cut cost
Cut calories
Make meatballs more flavorful
I use this technique in my book's meatloaf recipe. It works because mushrooms are moist and have a deep flavor (some would say they taste like meat). Adding mushrooms makes meatloaf almost fool-proof because you won't end up drying it out if you leave it in the oven too long.
I made it open faced to cut down on the bread. What I got was lighter, fluffier meatballs and a truly delicious sandwich. These meatballs are super easy to make if you have a food processor to mince the mushrooms and the garlic.
You can use the meatballs in a sandwich, on pasta, or simply eat them alone as an appetizer (using a toothpick).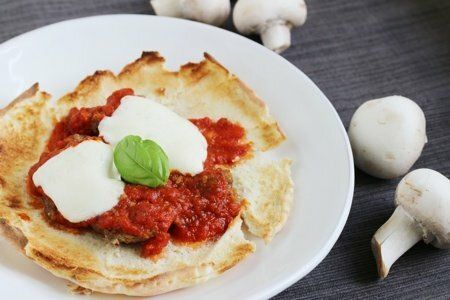 Open Faced Mushroom Meatball Parmigiana Sandwiches
Makes 2 sandwiches
Ingredients
For the meatballs:
8 ounce white button mushrooms, cleaned
1 garlic clove, peeled
8 ounces 80% lean ground beef
1 large egg
½ cup breadcrumbs
¼ cup Parmesan cheese, grated
For the sandwich:
1 round of pita bread
½ cup tomato sauce
1 ounce fresh mozzarella, sliced
fresh basil, optional
Instructions
Preheat oven to 400 F and line a rimmed baking sheet with aluminum foil. Spray the foil with non-stick spray. Mince the mushrooms and garlic in a food processor or with a knife. Add mushrooms and garlic to a large bowl and mix with ground beef, egg, breadcrumbs, and Parmesan until blended.
Form 1-inch balls of the meat mixture and put them on the baking sheet. Mix should make 20 meatballs. Cook for 20 minutes until dark brown.
To make the sandwich, slice two meatballs in half. Slice the pita bread in half so that you have 2 rounds of bread. Place the meatballs on the bread, spread on ¼ cup sauce, and 1 ounce of the sliced mozzarella. Repeat to make 2 sandwiches.
Heat sandwich under a broiler on high for one minute. Remove when cheese has melted and bread is toasted. Enjoy hot.
Nutrition Facts
one meatball is 57 calories, 3.0 g fat, 1.3 g saturated fat, 2.5 g carbohydrates, 0 g sugar, 5.0 g protein, 0 g fiber, 61 mg sodium, 2 Points+
one sandwich is 210 calories, 8.8 g fat, 4.1 g saturated fat, 17.2 g carbohydrates, 3.6 g sugar, 16.2 g protein, 1.7 g fiber, 400 mg sodium, 5 Points+
Points values are calculated by Snack Girl and are provided for information only. See all Snack Girl Recipes
Other posts you might like:
---

My pal, Aviva Goldfarb of The Six O'Clock Scramble has all the same problems that I do (well, maybe not all of them)....
---

I know what you are thinking - "Hello, lovely.....nom nom nom" Yes, that is a portobello mushroom burger that you will be making this summer....
---
---
Get Free Email Updates! Yes please!
---