What Are You Going To DO With All That Produce?
Okay, folks, let's get real. Which of you is overwhelmed by produce that you have grown or purchased?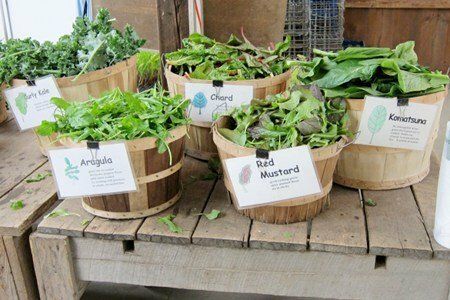 Yes, the healthy eating journey is fraught with pitfalls and my fridge is filled with greens.
I realized that this might be a problem for some of YOU because of some comments on my rhubarb crisp recipe. Seems people tossed out their rhubarb because they didn't know what to do with it.
Next time, just bring it over to my house. I always take in unwanted rhubarb.
I am involved with a CSA here in my town. CSA stands for Community Supported Agriculture, and is basically buying a "farm share" where you get produce directly from the farmer. There is a great list of CSA's around the country on the website Local Harvest.
There are some great things about a farm share. You get:
the freshest produce
the knowledge that you supported a neighbor
a greater connection to the seasons
There is also a downside which can go something like this - "Honey, what should we cook with the mustard greens??" - "Ummmmmmmmmmm, I don't know."
Is anyone else having this problem? Fortunately, my CSA, Brookfield farm, answered our mustard green question with the recipe below. I haven't tried it yet, but I am excited to see if my kids will like it.
Please share what type and kind of produce you have difficulty cooking.
I will try to TAKE ON the mystery vegetables and create yummy, light, and easy to make dishes to make your life easier (and mine, too).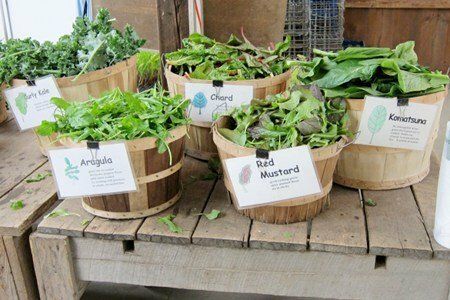 Greens With Pasta Recipe
(serves 4)
Ingredients
1 lb. cooking greens (spinach, komatsuna, mizuna, arugula, mustard, etc.)
1 onion, chopped
2 cloves garlic, minced
3 tbsp olive
1 tomato, chopped
1 lb. chicken breast or tofu, diced
salt, pepper, oregano and thyme(chopped)
Instructions
Sautee onion and garlic in oil until transluscent. Add chicken or tofu and saute 10 minutes. Add tomatoes and herbs and saute for 10 minutes covered. Add greens and cover. Cook for 10 minutes (until greens are completely wilted). Serve over pasta.
Nutrition Facts
For one serving with chicken breast and without pasta = 236 calories, 5.2 g fat, 8.2 g carbohydrates, 2.0 g sugar, 39 g protein, 3.4 g fiber, 231 mg sodium, 6 Points+
Points values are calculated by Snack Girl and are provided for information only. See all Snack Girl Recipes
Other posts you might like:
---

See that sign up there? I drove past that spot yesterday on my way home from the office....
---

Last week, Snack Girl complained about the high price of organic produce (see: How Important Is It To Buy Organic?). This week she did something about it....
---
---
Get Free Email Updates! Yes please!
---