NAKANO Natural Rice Vinegar Light and Flavorful: Giveaway
Summer is in full swing with barbecues and festivals, which can steer well-intended eating habits off course.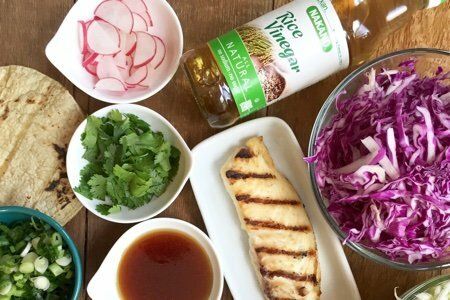 To stay on track, NAKANO Natural Rice Vinegar has partnered with registered dietitian nutritionist, Dawn Jackson Blatner to provide tips for a healthier summer.
Stay hydrated. Drink plenty of water throughout the day to stay hydrated and keep skin looking its best. Plus, hydration is a secret weapon for staying focused and energized.
Drink green tea rather than sweet tea. Sweet tea has a lot of sugar and calories, which is the last thing you want weighing you down in the summer. Instead, drink unsweetened green tea which is full of healthy compounds, like catechins, that give your metabolism a boost.
Make smoothie pops. Drinking smoothies is all the rage, but in the summer, freeze your favorite fruit and veggie smoothies into popsicles for a wholesome and refreshing treat.
Snack smarter. Keep cut-up seasonal vegetables such as cucumbers, bell peppers, zucchini and carrots in resealable containers for easy grab and go snacking. Splash on NAKANO Rice Vinegar to all of your veggies for a super flavor boost.
Stay balanced. Fill your plate with half veggies, a quarter lean protein and a quarter of whole grains for a balanced meal. This will keep energy levels up so you can enjoy more summer fun.
Grill fruit for dessert. When your sweet tooth needs a treat, grill seasonal fruits like peaches, plums and pineapple for dessert. The heat of the grill brings out even more of fruit's natural sweetness.
Enjoy light, but flavorful meals. Check out Dawn's recipe below for grilled fish tacos, created exclusively for NAKANO Rice Vinegar.
NAKANO is giving away a variety of NAKANO Rice Vinegar flavors for Snack Girl readers to enjoy! The giveaway package will include:
Nakano Citrus Seasoned Rice Vinegar: Lemon peel, citrus flavors and a hint of ginger offer a unique flavor profile perfect for fish or seafood and a variety of side dishes like rice or pasta. Perfect for splashing on your favorite seafood or to use in a homemade salsa. Retail Price: $3.14
Nakano Red Pepper Seasoned Rice Vinegar: Full of lively flavor with a kick of crushed red pepper. This product adds a flavorful kick to marinades, is a delicious base for barbecue sauce and is great for spicing up any recipe. Retail Price: $3.14
Nakano Natural Rice Vinegar: A mild vinegar that brings out the flavor of everything it touches. No added sugar or salt makes it a tasty alternative in recipes calling for wine, cider or distilled vinegar. Retail Price: $3.14
Simply comment below on your uses for rice vinegar and you will be entered to win this yummy giveaway package.
Try this fun Asian-style Grilled Fish Taco recipe using Nakano Rice Vinegar for lunch!
This is a sponsored post written by me on behalf of Nakano Rice Vinegar.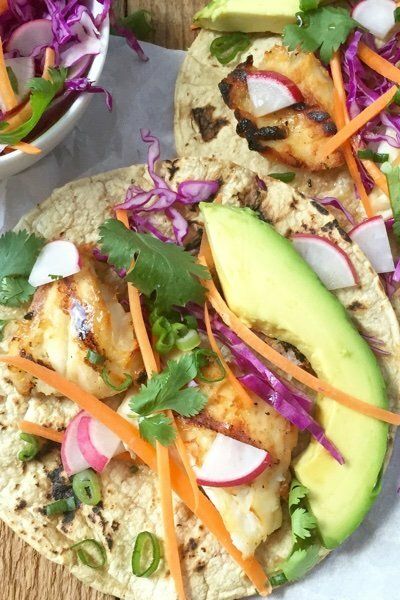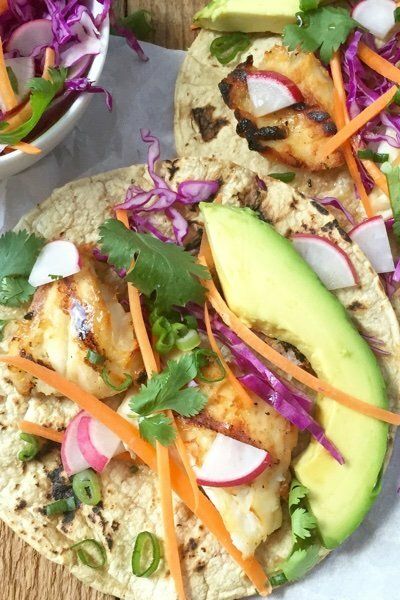 Asian-style Grilled Fish Tacos
Makes: 8 Tacos
Dressing:
3 tablespoons NAKANO Natural Rice Vinegar
2 tablespoons low-sodium tamari or soy sauce
2 tablespoons honey
1 tablespoon dark sesame oil
Slaw:
3 cups shredded cabbage (purple and/or Napa)
1 cup shredded carrot (3 carrots)
1/4 cup chopped green onions (3 green onions)
1/4 cup thinly sliced radish (2 radishes)
1/4 cup chopped cilantro
Tacos:
8 corn tortillas, warmed
3/4 pound (12 ounces) white fish, grilled
1 avocado, sliced
In a large bowl, whisk NAKANO Rice Vinegar, tamari, honey and sesame oil. Add cabbage, carrots, green onions, radish, cilantro and toss to coat veggies.
Top warm tortillas with fish, slaw and avocado. Serve extra slaw on the side.
Time saver: Use 4 cups pre-shredded coleslaw mix instead of cabbage and carrots.
Nutrition information for 2 tacos (values are rounded to the nearest whole number): 400 calories; 15 g fat (2.5g saturated fat); 50 mg cholesterol; 45 g carbohydrate; 28 g protein; 8 g fiber; 440 mg sodium; 13 g sugar; 110% vitamin A, 70% vitamin C, 15% calcium, 15% iron
Points values are calculated by Snack Girl and are provided for information only. See all Snack Girl Recipes
What will I win?
A variety of NAKANO flavored rice vinegars valued at $9.50.
How do I enter?
Comment below on your favorite uses for rice vinegar.
Am I eligible to enter?
This giveaway is offered to residents of the USA.
When do I find out if I am the winner?
One randomly chosen winner will be announced on Thursday, September 4th, 2015.
---
Get Free Email Updates! Yes please!
---