Are Naked Juices Healthy? - 34% More Sugar Than A Coke
You know how kids simply love to be naked? My kids love screaming around the house in their birthday suits.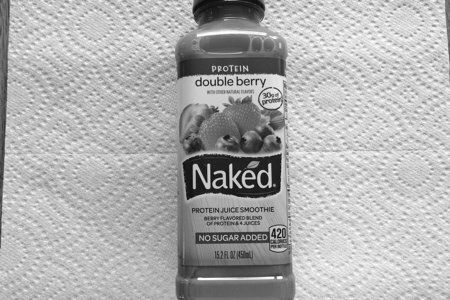 Naked is such wonderful word – uncovered, undressed, bare…..
Alas, it is also the name of a brand of juice smoothie owned by PepsiCo. I am sure the executives at PepsiCo like to walk around naked too. Of course, paying 9 million dollars because they mislabeled their Naked juice with "all natural" might have made them want to put on some clothes (USA Today).
I don't buy smoothies typically because I bought myself a super duper high power blender that I use to make my own. My green smoothie that doesn't taste like grass and my strawberry cheesecake smoothie are two of my favorites.
I have a problem with this part of the label: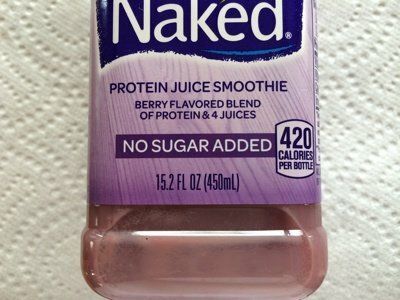 It should say "No Cane Sugar Added But Don't Worry Folks There is 55 Grams of Sugar In This Bottle For Your Enjoyment". In comparison, same size container of Coca Cola has 41 grams of sugar. Fifty-Five grams is equivalent to 11 teaspoons of sugar.
Imagine spooning 11 teaspoons of sugar into your mouth. That can't be good!
The idea here is to call it a "Protein Juice Smoothie". Here are the nutrition facts for the BOTTLE (because you know you are going to drink the whole thing):
420 calories, 3.8 g fat, 0.95 g saturated fat, 66.5 g carbohydrates, 55.1 g sugar, 30.4 g protein, 0 g fiber, 130 mg sodium, 17 SmartPts
This is a SUGAR and Protein Smoothie.
How do they do it? Here are the ingredients in their "Protein Double Berry":

apple juice, banana puree, strawberry puree, soy protein isolate, whey protein concentrate, blueberry puree, soy lecithin, fruit and vegetable juice for color, natural flavors, ascorbic acid
When they use fruit juice and puree, they add concentrated fruit sugar without the benefit of the fruit's fiber.
Are Naked Juices healthy? I would only say they are if you believe spooning sugar in your mouth is a healthy choice. Please, please drink this only as a treat. Honestly, I'd rather have a milkshake for an indulgence.
What do you think of Naked Smoothies?
---
Other posts you might like:
---

Corporations have been vilified for deceitful marketing practices. The worst companies seem to have big names like "Coca-Cola"....
---

Snack Girl has had MANY readers tell her to try "green" smoothies. Well, before last Tuesday, I had one word for them - YUCK!...
---