Have a Healthy Brownie! (a Mere 77 Calories)
Is it possible to create a healthy brownie? A regular brownie contains oodles of butter, sugar, eggs, and chocolate. They are a confection of MEGA calorific proportions and should be eaten as a treat.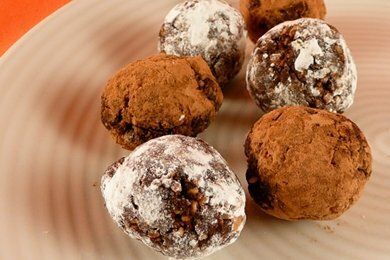 But, if you have a food processor, you can whip something up in minutes that tastes delicious. The key is to use healthy replacements for the butter, eggs, and sugar. In this recipe, which I created in my test kitchen (ahem, my kitchen), I used dates and almonds.
You can find dates next to the raisins in most grocery stores (I bet you haven't even noticed them).
Having a food processor in the house is extremely helpful. It cuts time on many cooking projects, such as making dough (pastry and pizza), grating cheese, and chopping nuts.
I highly recommend the one featured below. I have had my Cuisinart for many years and it still works like new. Just be aware a food processor IS NOT for liquids. A blender is a much better choice for smoothies, soups, etc.
Roasted almonds are just one choice for this recipe. You could use raw nuts or any kind of nut that you like. I used roasted because roasting makes the almond taste stronger.
I rolled these balls in confectioner's sugar and cocoa. My tasters (friends) thought that the cocoa ones were too bitter. I actually liked them better, so give them both a try. You can add more honey if you find these lacking in sweetness.
These would be a great party snack too! You can make them ahead and just artfully arrange them on a plate. Or do what I did, and just put them on a plate :)
These brownie balls are gluten-free so you can serve them at snack time for the kids with wheat allergies. Kids will also love making these as they get to use their hands in making them.
To make these brownie balls vegan - use maple syrup or agave syrup.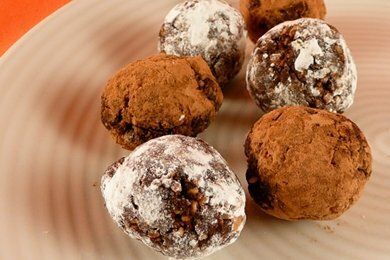 No-Bake Brownie Balls
Makes 15 balls
Ingredients
15 pitted dates
2/3 cup cocoa powder (plus extra for dusting)
1 cup roasted almonds (no salt added)
1 tablespoon honey
2 tablespoons water
confectioner's sugar (optional)
Instructions
Add almonds to food processor and pulse until ground. Add dates, cocoa powder, honey, and water. Mix until it just forms a sticky mass. Wash hands and attempt to make a ball with the dough (it may need more water to get to the perfect consistency). Put a tablespoon of cocoa or confectioner's sugar on a plate. Roll balls in your hand and then roll in sugar or cocoa (or both). Eat! These can be store in the fridge for a week.
Points values are calculated by Snack Girl and are provided for information only. See all Snack Girl Recipes
$129.95 $99.99 Buy on Amazon.com
As an Amazon Associate, I earn from qualifying purchases.
---
Other posts you might like:
---

Do you love cookies but hate the work that goes into making them? My least favorite part is the clean up of the kitchen. argh....
---

If you read Snack Girl enough, you know that I like a challenge. I had seen vegan cookies at cafes and thought, "no butter, no eggs, equals a disgusting cookie"....
---
---
Get Free Email Updates! Yes please!
---