Wow Your Friends With The World's Simplest Cookie Recipe
Do you love cookies but hate the work that goes into making them? My least favorite part is the clean up of the kitchen. argh.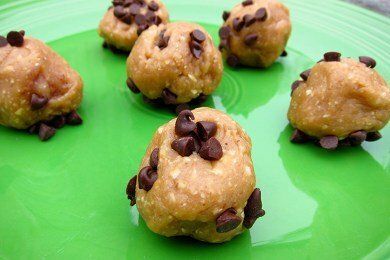 I've got a recipe with FOUR - count 'em - FOUR ingredients that will send your heart a flutter. Okay, maybe these a wee bit strange - but they sure beat a packaged cookie and they require no baking.
This recipe is incredibly customizable. For example, if you don't like peanut butter, you can use cashew, almond, or sunflower butter. I used maple syrup but you can use honey, or agave nectar instead. You do need a "liquid" form of sugar so the batter will stick together.
I use a food processor to make these because I am super lazy. Ever since I learned that a food processor makes great pastry and pizza dough, it has been my favorite kitchen appliance for making doughs.
Kids love to roll up the cookies (my kids made the ones photographed above - I bet you can tell) and then, get this - they don't have to wait for the cookies to come out of the oven. They can just eat them!
These are a great after school snack and they keep in the refrigerator for a couple of days. I send them in my kids lunchbox and take them for an afternoon snack to have with my coffee.
The "no-bake" cookie has a brownie type of texture vs. a crispy outside. I find them very luxurious and satisfying even without the butter and eggs that go into regular cookies.
Have you tried making a no-bake cookie?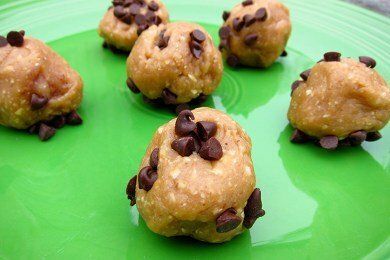 No Bake Peanut Butter Cookie Balls

(makes 12 balls)
1/2 cup rolled oats
1/4 cup flour
1/4 cup peanut butter (or other nut butter)
1/4 cup maple syrup
mini semi-sweet chocolate chips (optional)

Put rolled oats in food processor and pulse into you have a flour like consistency. All flour, peanut butter, and maple syrup and mix until a rough dough is formed.
Test dough to see if it will hold a ball. Add water to the dough if it is too dry. Roll 12 balls and roll in chocolate chips. Serve and enjoy! Store them in the refrigerator if you have any left :)
For one ball (without chocolate chips) = 71 calories, 3.0 g fat, 9.7 g carbohydrates, 2.1 g protein, 0.7 g fiber, 26 mg sodium, 2 Points+
Points values are calculated by Snack Girl and are provided for information only. See all Snack Girl Recipes
Other posts you might like:
---

Is it possible to create a healthy brownie? A regular brownie contains oodles of butter, sugar, eggs, and chocolate. They are a confection of MEGA calorific proportions and should be eaten as a treat....
---

If you read Snack Girl enough, you know that I like a challenge. I had seen vegan cookies at cafes and thought, "no butter, no eggs, equals a disgusting cookie"....
---
---
Get Free Email Updates! Yes please!
---